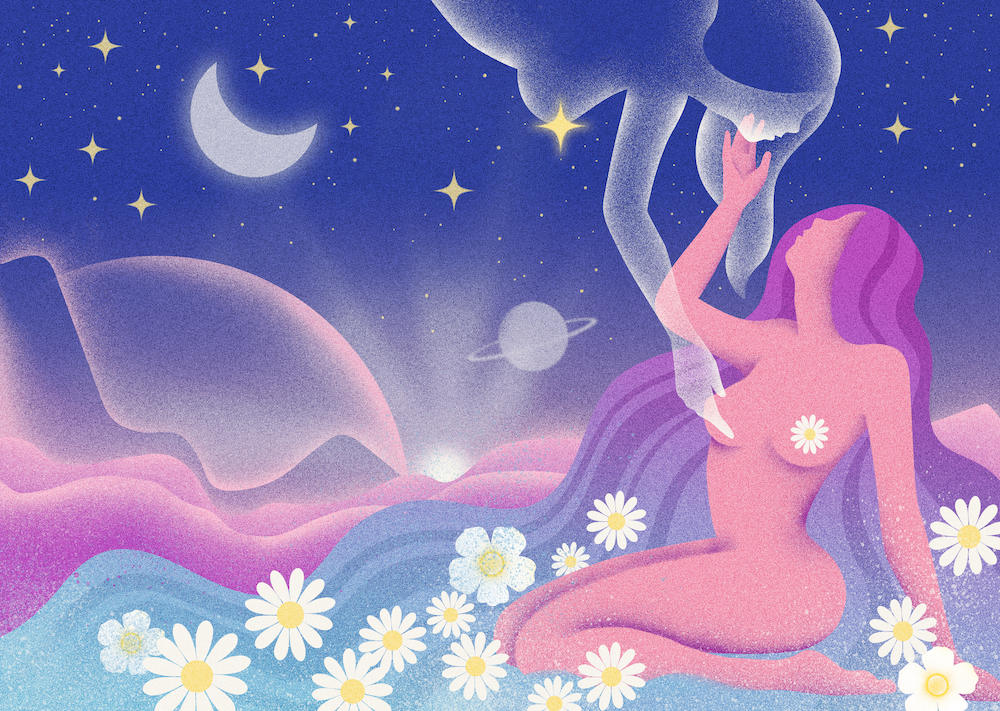 SUBMISSIONS ARE OPEN: WRITE FOR THE SUMMER 2023 ISSUE OF POPSHOT QUARTERLY
Submit work for the next issue between today and 9am (GMT) on Friday 3rd March 2023. Illustration by Chu Chu Briquet
The next issue of Popshot will be on the theme of…"Solar."
We have just finished putting together the Heart Issue (thank you to all who submitted), allowing us to open the doors for new submissions.
Our next theme is 'Solar'.
Writers might want to consider the different meanings of solar, from relating or determined by the sun, to a carbon-free energy resource, an upstairs room in a medieval house where people slept or lived together as a family, to the Anglo-Norman French word soler, which means 'gallery, or terrace.' You might think too of solar systems, or star systems, which comes from the Latin root solaris, or "of the sun." Whatever your understanding of this word, we want it to in some way respond to the central nature of solar to our lives. Feel free to take a tangential approach, to go towards the light, or take us somewhere darker.
Successful submissions must display excellent writing, creative flair and originality. We are looking for a mixture of humour, social commentary, honesty and thrilling storytelling. We welcome all genres and writing styles so long as they follow our guidelines for submission (for more on which, click here).
Submissions for the Summer 2023 issue are open until 9am (UK time) on Friday, 3 March 2023.
The Solar Issue will be published in May 2023.
Guidelines for submission are here.
Three entries maximum. Entries over the word count will not be considered. We're very sorry but due to volume we cannot reply to submissions unless they are successful, so if you haven't heard from us by the end of April 2023 please take it as a pass.
To discover more about Popshot, pick up a copy from WHSmiths or another reputable newsagent (here are a few other ways you can safely find it). You can subscribe to either hard copy or digital editions. Four issues are published per year showcasing the best emerging fiction writers.
To see your writing published and illustrated, head to our submit page for the full guidelines. Include the issue and form of your work in the subject line (i.e. Solar – Poetry). We are open to original contributions from anyone, anywhere in the world.
At Popshot towers we have just wrapped up the Heart Issue, which will be on sale from 2nd February 2023.
Got a question? Drop us a line at hello@popshotpopshot.com
Follow us on Facebook, Twitter and Instagram.

To ensure that you never miss a future issue of the print magazine, subscribe from just £24 for 4 issues.