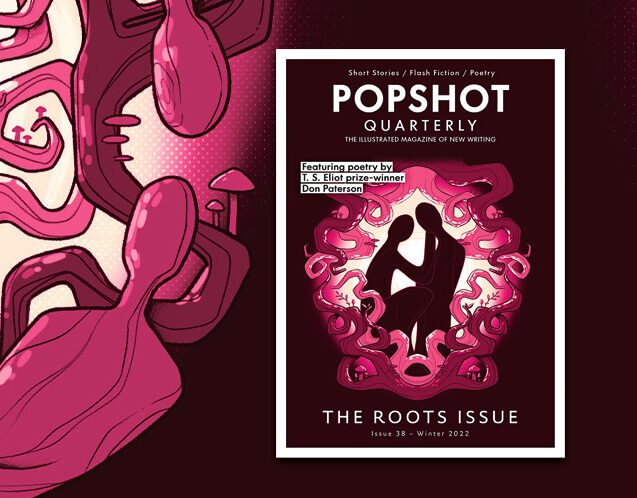 The latest issue of Popshot Quarterly is on sale now. Cover illustration by Katie M Green
The Roots Issue is a collection of vivid writing, exploring our relationship with the earth and what roots us. It cuts deep, with tales of poisoned gardens, oak wives, and worlds beneath our feet.
Words by: Tianna Jordening, Ilisha Thiru Purcell, Sarah Royston, Grace Maxted, Anna Rose James, Elizabeth Gibson, Isabel de Andreis, Helen Salsbury, Megan Ellenberger, Helen Vine, Shastri Akella, Penny Shutt, Chris Belson, Don Paterson, Georgia Boon, Maja Ulasik, Dominic Weston, Romy Tara Wenzel, Maitrayee Deka, Holly Moberley, Patricia Minson, Mark Czanik, BEE LB, Cera Naccarato,Julia Ruth Smith, Andrea Koehler, Viviana Moreno, Charli Jacobs, Natalie Burdett.
Illustrations by: Abbie Reilly, Alana Nastold, Charli Beck, Chiara Morra, Connor Parker, Eduardo Morciano, Eryka Ilarreta, Gabriel East, Georgina Reynolds, Hannah Clair, Hannah O'Brien, Imogen Ward, Jiazhen Cai, Jorge Cha, Joy Alicia Raines, Katie Louise Thomas, Katie M Green, Kristen Huang, Kyle Solomon, Lucile Farroni, The Noc Design, Molly McCammon, Natàlia Pàmies, Nelson Illustrates, Sophy Smith, Thomas Sciacca, Zara Wilkins.
By subscribing to our print edition you can read all four issues published throughout the year from £20. A printed copy of the magazine will be delivered direct your home each quarter. Click here to subscribe.
The digital edition of Popshot is available for reading on tablets and desktop and you will receive free access to the complete magazine archive with your subscription. Click here for the app, here to read Popshot via ISSUU, or here to read via Readly.

To ensure that you never miss a future issue of the print magazine, subscribe from just £24 for 4 issues.