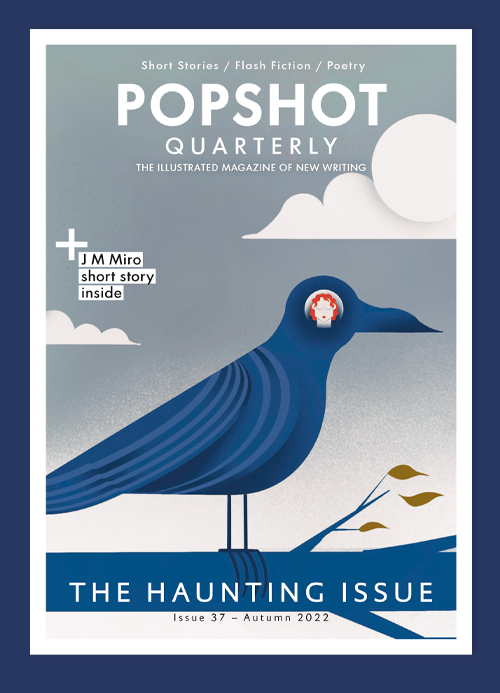 THE HAUNTING ISSUE IS HERE!
The latest issue of Popshot Quarterly is on sale now. Cover illustration by Millie Baker
The Haunting Issue is a collection of vivid writing about hauntings, intrusive memories and fear. It cuts deep, but also skewers genres for a wry take on scare stories, featuring Taylor Swift, nostalgic music and a mixture of genuine and fake ghouls. Featuring an extract from J M Miro's Ordinary Monsters inside.
Words by: Al Crow, Benjamin Herriton, David Romanda, Annabel White, Ellora Sutton, Sophia Rubina Charalambous, Dan Spencer, Jonathan Greenhause, Dallon Robinson, Jeremy Smith, Julie-ann Rowell, Heather Walker, Fiona Eatwell, Alexandra Cîrstian, J M Miro, JP Relph, Simon Tindale, Jonathan Willmer, Joe Williams, Kay Young, Charlie Rose Evans, Rebecca Klassen, Megan Denton, Abigail Williams, Morgan Liphart, Simon Fairbanks
Illustrations by: Millie Baker, James Merritt, Andrew Haener, Guille Manchado, Daisy May Morgan, Rung Sheng Chou, Brooklin Holbrough, Torsten Carlisle, Gail Gosschalk, Mikayla Bader, Gary Venn, Sammi Shen, Neil Webb, Katie M Green, Laura Brannigan, Karen Stolper, Katelyn McKenna, Hayley Sinnatt, Kamal Kuz, Peter Roman, Dina Razin, Seb Westcott, Cyndy Patrick.
By subscribing to our print edition you can read all four issues published throughout the year from £20. A printed copy of the magazine will be delivered direct your home each quarter. Click here to subscribe.
The digital edition of Popshot is available for reading on tablets and desktop and you will receive free access to the complete magazine archive with your subscription. Click here for the app, here to read Popshot via ISSUU, or here to read via Readly.

To ensure that you never miss a future issue of the print magazine, subscribe from just £24 for 4 issues.