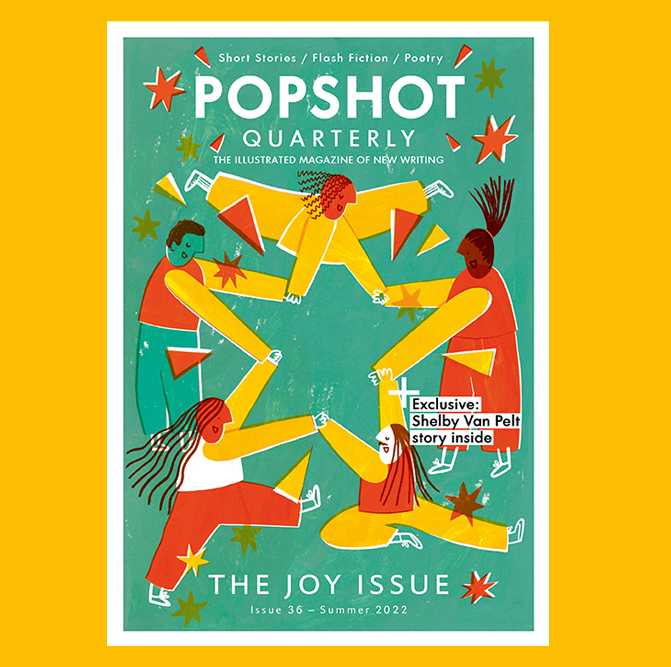 The latest issue of Popshot Quarterly is on sale now. Cover illustration by Gracie Dahl.
The Joy Issue is a collection of vivid writing, exploring brief bursts of intense happiness. It goes deep, with tales of burgeoning desire, childhood giggles, exploding champagne bottles and laughter. Featuring an exclusive short story by guest author Shelby Van Pelt. Cover illustration by Gracie Dahl.
Words by Corinna Keefe, Benedict O'Rourke, Olivia Jenkins, Christian Butler-Zanetti, Chloe Laws, Dragana Lazici, Carolyn Gillum, Grace Marie Liu, Jack Buckingham, Samuel Rogers, Taria Karillion, Gary Hughes, Prajay Ghaghda, Parnian Sadeghi, Alex Beata Clarke, Shelby Van Pelt, Liz Adams, Honor Somerset, Anthony Holness, Billie Manning, Polly Barker, Miranda Westphal, Mia Bleach, Mims Sully, Anna Hollingsworth, Jay Barnett, Polly East, Annie Cowell, Theodore Beecroft, Louise McStravick, Emily Jane.
Illustrations by Gracie Dahl, Pamela Chen, Charlie Riddle, Toni Gajadhar, Kaylie Pendleton, Twoolw, Lola Nankin, Niu Cheni, Hannah Finnie, An Chen, Eline Veldhuisen, Travis Constantine, Marine Coutroutsios, Marjolein Verbruggen, Kim Williams, Rita M. Pereira, Not Flipper, Ane Arzelus, Weitong Mai, Millie Baker, Tasha Dale, Celyn Hunt, Joseph Stevenson (Kynobi), Violet Argent, Namasri  Niumi.
By subscribing to our print edition you can read all four issues published throughout the year from £20. A printed copy of the magazine will be delivered direct your home each quarter—and you will also get access to our full digital archive. Click here for more information.
The digital edition of Popshot is available for reading on tablets and desktop and you will receive free access to the complete magazine archive with your subscription. Click here for the app, here to read Popshot via ISSUU, or here to read via Readly.

To ensure that you never miss a future issue of the print magazine, subscribe from just £24 for 4 issues.