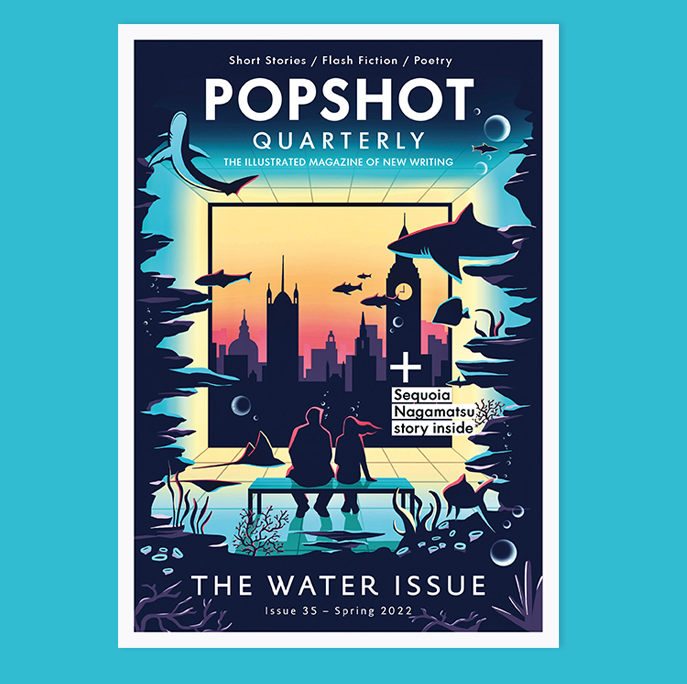 The latest issue of Popshot Quarterly is on sale now. Cover illustration by Dilianny Espinoza
The Water Issue is a collection of vivid writing, exploring our relationship with the wet stuff. It goes deep, with tales of selkies, hot tub time machines, submerged villages, and severe droughts.
Words by: Carol Casey, Elizabeth Gibson, David Heidenstam, Haleigh Morgan, Sarah Coakley, Twanda Rolle, John Davis, Sequoia Nagamatsu, Kym Deyn, Claire Orchard, Jill McKenzie, Alison Gormon, Linda Goulden, Linda McCauley Freeman, Liam McClelland, Ami Hendrickson, Christopher Thomas, Thea Zimmer, Finolla Scott, Sophie Goldsworthy, Lucy Beckley, Jennifer Stark, Melanie Jones, Victoria Jeynes, Harriet Truscott, Ben Tallon, Steven Mitchell, Susie McComb.
Illustrations by: Herta Arnaud, Rebecca Chang Jen Lin, Natalia Chirkowska, Courtney L Ellis, Dilianny Espinoza, Tor Ewen, Jon Higham, Neko Jiang, Lou Kiss, Yian Lee, Ellie Lonsdale, Esmé Alice Mackey, Vivi Maidanik, Nika Mamedova, Akesi Martinez, Shauna Mckeon, Jemima Muir, Andrei Nicolescu, Alejandra Peñaloza, Ellis Pearce, Ione Rail, Rowena Sheehan, Maria Skliarova, Jasmine Tutton, Rachel Joan Wallis, Zhigang Zhang.
By subscribing to our print edition you can read all four issues published throughout the year from £20. A printed copy of the magazine will be delivered direct your home each quarter—and you will also get access to our full digital archive. Click here for more information.
The digital edition of Popshot is available for reading on tablets and desktop and you will receive free access to the complete magazine archive with your subscription. Click here for the app, here to read Popshot via ISSUU, or here to read via Readly.

To ensure that you never miss a future issue of the print magazine, subscribe from just £24 for 4 issues.