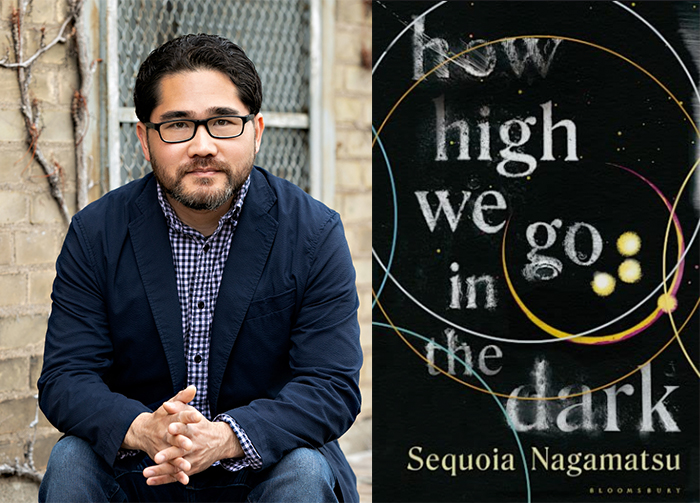 SEQUOIA NAGAMATSU Q&A: 'IT HELPS THAT I WROTE MY PANDEMIC NOVEL PRE-COVID'
The guest author for The Water Issue talks about how the world in his novel is brighter than the real one, despite his plague being more horrific.
Sequoia Nagamatsu is being hailed as one of the most exciting new writers of 2022. His debut novel, How High We Go in the Dark, was published last month. 
The book transports us hundreds of years into the future and explores the impact of a fictional plague caused by melting Arctic ice.
Here at Popshot Quarterly, we're very excited to say that Sequoia is our guest author for the Water Issue. His novel started as a series of short stories, and you'll find one of them beautifully illustrated among our latest magazine's pages. 
Q. You've written a pandemic book about melting ice during a global pandemic and while more and more attention is rightly being paid to climate change. Does it feel strange to have hit both nails on the head quite so squarely?
A. It's both strange and yes, eerily prescient. I was just reading an article the other day about someone getting organs transplanted from a genetically modified pig, which is especially on the nose given a particular chapter. 
But nobody could have predicted the world we're in right now. I never expected to sell or publish this novel during an actual pandemic. 
That said, here we are, and although I wouldn't call the timing ideal for a lot of reasons, I do think this novel could hold a unique place in our moment and help people begin to process our experiences, even find some catharsis. 
If anything, the world in my novel is much brighter despite my plague being more horrific. That's the world and future I'd like to strive for. That's the community I want to strive for. We're still very far away from treating each other and our planet in the way we should.
Q. What made you realise your book was a novel rather than a collection?
A. The oldest chapter in the novel stems back to 2007 in its very, very early form. So, to talk about the trajectory of this novel is to really also explore my trajectory as a writer. 
For a long time, I was just writing stories. I had no illusion that I would ever have a career as a writer or that I would even attend graduate school for creative writing. 
I was merely interested in exploring different forms of grief and alternative funerary traditions at the heels of the loss of my grandfather who helped raise me (and associated guilt around not being there when he died). 
It really wasn't until perhaps 2014 or 2015 that I began seeing the architecture of what could be not only a collection but something that had more concrete links.
But I didn't call How High We Go in the Dark a novel until I began working with my agent. 
By that time, the scale of the manuscript was already entertaining a final chapter that would explode the scope to the origins of life on Earth, to the stars, and my agent said that it didn't quite feel right to label what I was doing a novel. 
From that point forward, I began the hard work of deepening connections between characters, evolving the world and society across chapters, and dropping hints along the way for careful readers that would pay off in unexpected and cosmic ways by the novel's completion. 
The journey of this book coming to fruition is just as kaleidoscopic as its narrative architecture. 
Q. You deal so delicately and beautifully with death in the novel, but there's always a sense of hopefulness rather than heaviness to your prose. How important was that to you to achieve?
A. As I was writing each chapter and certainly during revision, I wanted to make sure that some hope and light was present no matter how dark a situation might be. 
I think what helps How High We Go in the Dark reach toward the light despite its difficult backdrop is that I did write this pre-Covid.
So my ultimate concerns were not so much about world but about people finding small moments of connection, small actions that could carry them through rough patches. 
I think it's deeply important that in year three of a Covid world (and an increasingly climate changed world) that we never lose sight of hope and community and the small actions that remind us why we want to wake up the next day. 
It can be easy to lose sight of that sometimes (and certainly some of my characters have for a time), but I hope that my book can help readers reflect on what's important in their lives.
We probably don't want to completely go back to normal. So why not use this betwixt and between space of lockdowns and home schooling and online meetings to dream of doing better. 
Q. You've managed to achieve and sustain a remarkably ambitious premise, which is no mean feat in a novel. Do you think the short story form helped as a discipline to tackle this?
A. I think it definitely helped me capture so many variations of life and reactions. 
As I began thinking more of my growing body of work as a cohesive book it was hard not to think about the work of authors like David Mitchell (esp. his earlier work like Ghostwritten). 
Some people need to run away from a tragedy. Some people lean into the fire and try to stop it. Others might need to form communities or other realities. 
In my book I present polaroid photos in a shoe box found in an attic—disparate moments but somehow all part of the same world whether or not characters are actually related to each other or only connected by the thinnest cosmic strand. 
I know some readers who typically don't read short stories or story collections shy away from the short form because they prefer immersion and continuity of character. 
I hope that How High We Go in the Dark is a way for lovers of short stories to dive into genre and storyline diversity while novel lovers can still have a sense of continuity and a frame that makes the story transcend the sum of its parts. 
Q. Can you talk a little about your writing process?
A. I typically do most of my writing in my home office, which I share with my wife who is also a writer. It's a room filled with books, a hydroponic garden, my robotic dog's bed/charging cradle, and lots of notes messily arranged on a cork board. 
Before the pandemic, I'd say that I did a lot of my best work in the early mornings. I used the #5amwritersclub community on Twitter as a kind of early morning motivation, although to be perfectly honest my early rising has much more to do with my cat than anything else. 
Since Covid, I've gotten used to carving out writing time throughout the day since I've been working and teaching from home, while reserving late afternoon and evening hours for reading, television, and gaming. 
How High We Go in the Dark is published by Bloomsbury

To ensure that you never miss a future issue of the print magazine, subscribe from just £24 for 4 issues.