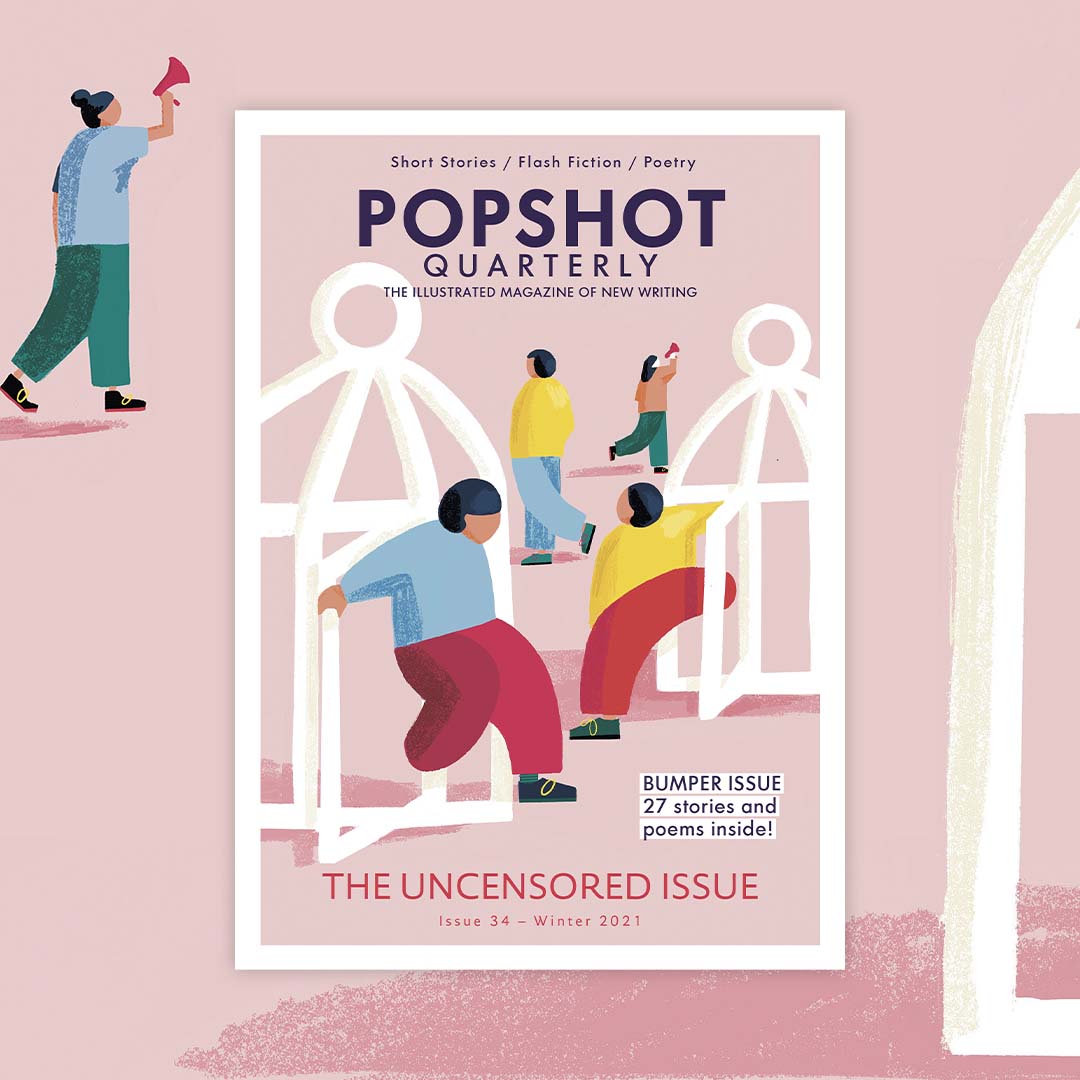 THE UNCENSORED ISSUE IS HERE!
The 34th issue of Popshot Quarterly is now on sale featuring 27 stories and poems. Cover illustration by Martha White.
Popshot is a beautifully illustrated quarterly magazine showcasing imaginative short stories, flash fiction and poetry by the best new writers.
The Uncensored Issue is a collection of vivid writing, exploring our deepest internal thoughts. It cuts deep, with tales of devastating loss, secrets and lies, humour and indecent disclosure told in verse, flash and compelling short stories.
Words by: Kayla Feldman, Madeline Wierzal, Dide Siemmond, Richelle Sushil, Flora Jardine, Palma McKeown, Rowena Newman, A. M. Gwynn, Clare O'Brien, Evan White, Annie Oliver, Mark Ralph Bowman, Lucy Porter, Alan McCormick, Anonymous, Danielle Shields, Rachael Grant, Maria Ilona Moore, Lisa Murphy
Illustrations by: Sabrina Reiter, Andy Kenneth Edwards, Jimmy Stolpe, Mario Pinheiro, Paula Calleja Cardiel, Robin Goodwin, Magdalena Marchocka, Jemima Ruby, Annie Vaughn, Yi Jong, Maureen Keeney, Winston Braun, Pablo Tesio, Peili Huang, Matt Lee, Sherry Xiao, Amy Lauren McGrath.
By subscribing to our print edition you can read all four issues published throughout the year from £20. A printed copy of the magazine will be delivered direct your home each quarter—and you will also get access to our full digital archive. Click here for more information.
The digital edition of Popshot is available for reading on tablets and desktop and you will receive free access to the complete magazine archive with your subscription. Click here for the app, here to read Popshot via ISSUU, or here to read via Readly.

To ensure that you never miss a future issue of the print magazine, subscribe from just £24 for 4 issues.