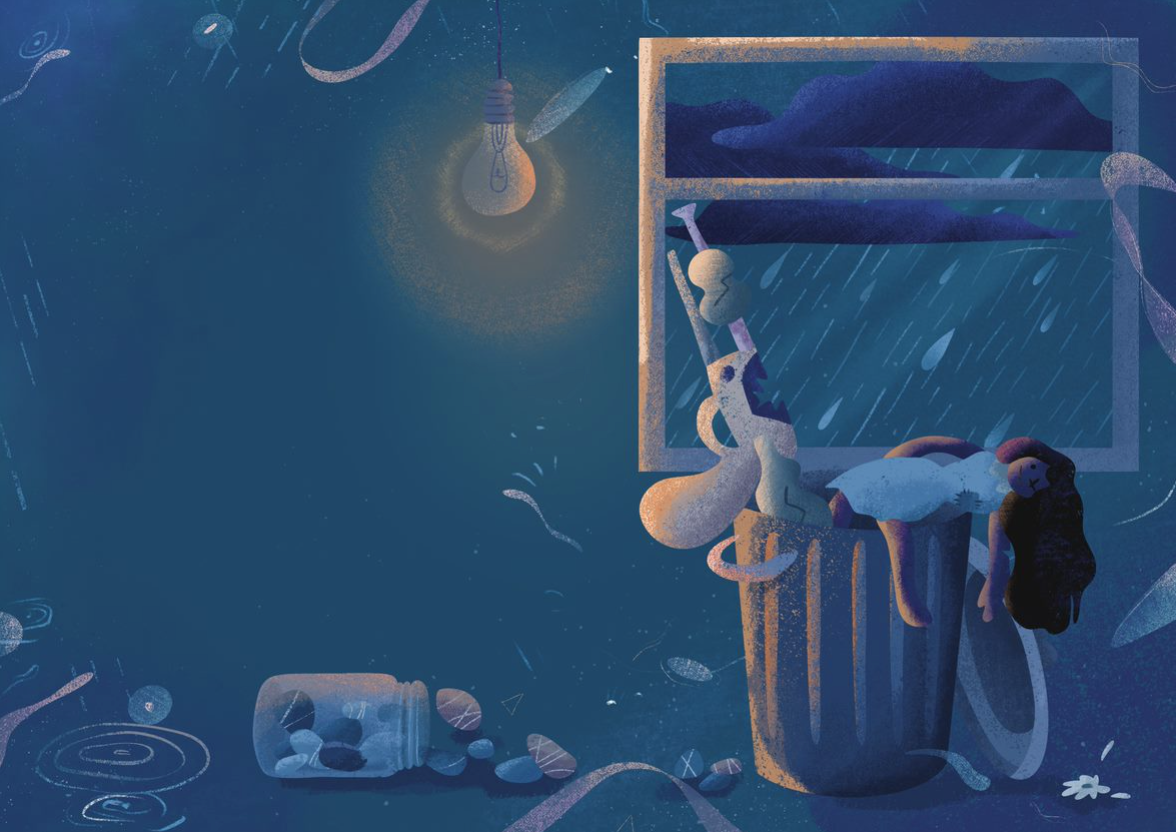 WRITE FOR US: SUBMISSIONS FOR THE SPRING 2022
Submit work for the next issue between today and 9am on GMT Tuesday 30 November. Illustration by Maggie Stephenson.
The next issue of Popshot will be on the theme of…"Water."
We have just finished putting together the Uncensorede issue (thank you to all who submitted, the magazine will thump through letterboxes and appear on newsstands soon), allowing us to open the doors for new submissions.
Our next theme is 'Water' and we are interested in writing that looks broadly at the impact of H20, the human relationship with it and the different world beneath its surface.
Writers might want to consider the importance of the vast expanse of water on our earth, the mythology linked to it, from mermaids and giant squids to the Bermuda triangle, to the fact that the human body is 60% water. This issue is an opportunity to look at the tidal pull of the wet stuff on our lives, from avid wild swimming to watersports and the terror of huge, cold, deep bodies of water. After all, we cannot live without water, but it can certainly kill us. Feel free to go as dark and deep as you dare.
Successful submissions must display excellent writing, creative flair and originality. We are looking for a mixture of humour, social commentary, honesty and thrilling storytelling. We welcome all genres and writing styles so long as they follow our guidelines for submission (for more on which, click here).
Submissions for the Spring 2022 issue are open until 9am (UK time) on Tuesday, 30 November 2021.
The Water Issue will be published in February 2022.
Guidelines for submission are here.
Three entries maximum. Entries over the word count will not be considered.
To discover more about Popshot, pick up a copy from WHSmiths or another reputable newsagent (here are a few other ways you can safely find it). You can subscribe to either hard copy or digital editions. Four issues are published per year showcasing the best emerging fiction writers.
To see your writing published and illustrated, head to our submit page for the full guidelines. Include the issue and form of your work in the subject line (i.e. Water – Poetry). We are open to original contributions from anyone, anywhere in the world.
At Popshot towers we have just wrapped up the Uncensored issue, which will be on sale from 4th November 2021.
Got a question? Drop us a line at hello@popshotpopshot.com
Follow us on Facebook, Twitter and Instagram.

To ensure that you never miss a future issue of the print magazine, subscribe from just £24 for 4 issues.