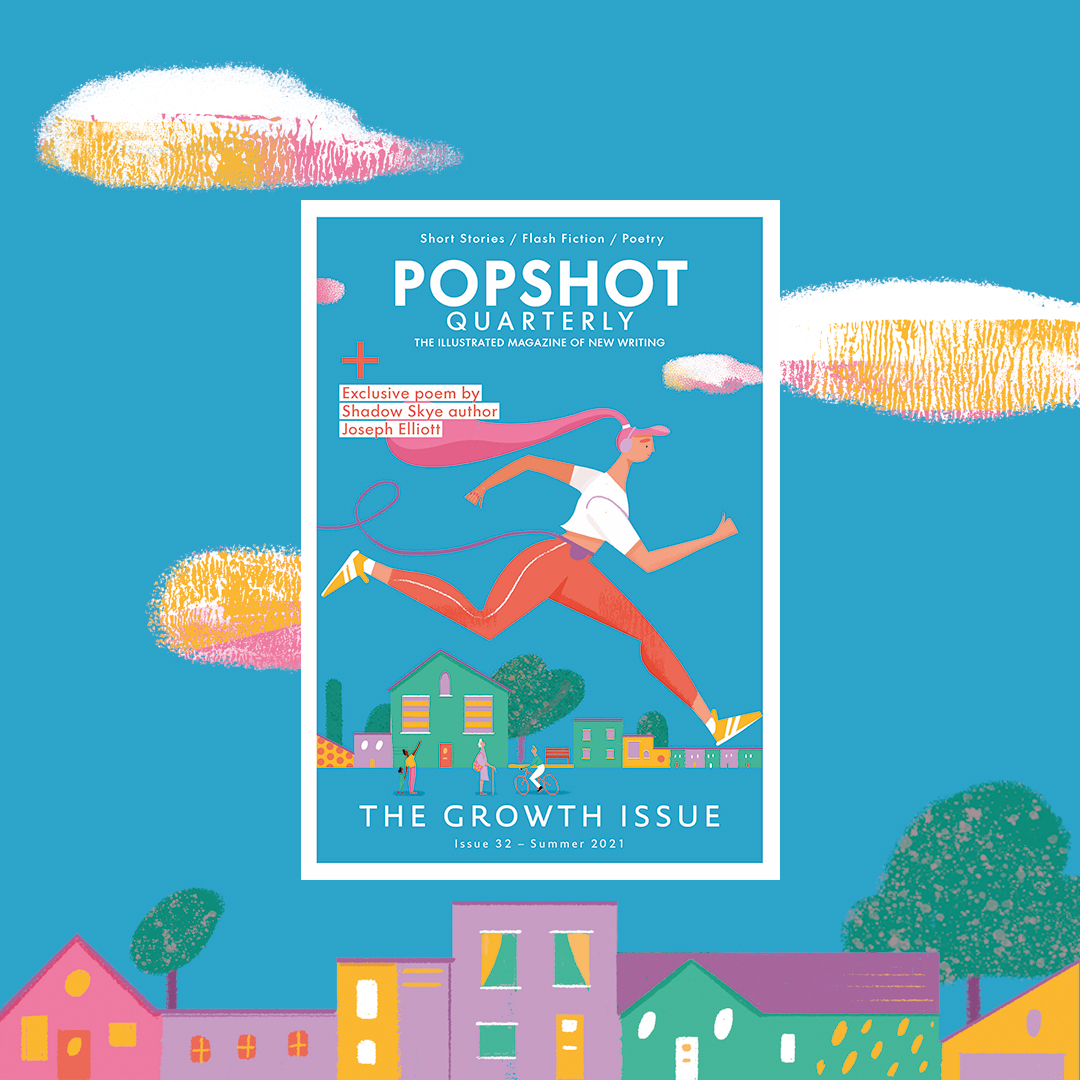 THE GROWTH ISSUE IS HERE!
The 32nd issue of Popshot Quarterly is now on sale featuring a poem by guest author Joseph Elliott. Cover illustration by Freya Lowy Clark.
Popshot is a beautifully illustrated quarterly magazine showcasing imaginative short stories, flash fiction and poetry by the best new writers.
The Growth Issue is a collection of vivid writing, exploring the different ways we can flourish and change. It cuts deep, exploring the pathos of failure to grow, the agony of adolescence, the hilarity of abandoned house plants that become monsters, and tenderness towards the green shoots of life.
Words by: Holly Kybett Smith, Elizabeth Gibson, Marissa Higgins, C. P. Nield, Alys Key, Joy M. Humphreys, Erin Coppin, Chizoba Nnagbo, Sophia Harris, Heather Lee Shaw, Joseph Elliott, Tomas Marcantonio, Lucy Smith, Maya Kalev, Christine Collinson, Subhravanu Das, Harvey Duke, Jill Munro, Natalie Wolf, John Newton, Thomas Whitehouse, C. J. Patrick, Laetitia Erskine, Sarra Culleno.
Illustrations by: Alex Hahn, Andrea Šafaríková, Cinta Fosch, Connie Noble, Daniel Macleod, Dilianny Espinoza, Emily Louka, Emma Thrussell, Freya Lowy Clark, Gus Scott, Katie Scarlett Griffin, Lea Reusse, Lucia Biancalana, Mathias Ball, Raffaela Schöbitz, Ruthie Gibbs, Scott Wilson, Simona De Leo, Sophie Standing, Tiffany Dang, Virginia Mori, Wendy Denissen, Zoe Jackson, Zofi a Chamienia.
By subscribing to our print edition you can read all four issues published throughout the year from £24. A printed copy of the magazine will be delivered direct your home each quarter—and you will also get access to our full digital archive. Click here for more information.
The digital edition of Popshot is available for reading on tablets and desktop and you will receive free access to the complete magazine archive with your subscription. Click here for the app, here to read Popshot via ISSUU, or here to read via Readly.

To ensure that you never miss a future issue of the print magazine, subscribe from just £24 for 4 issues.