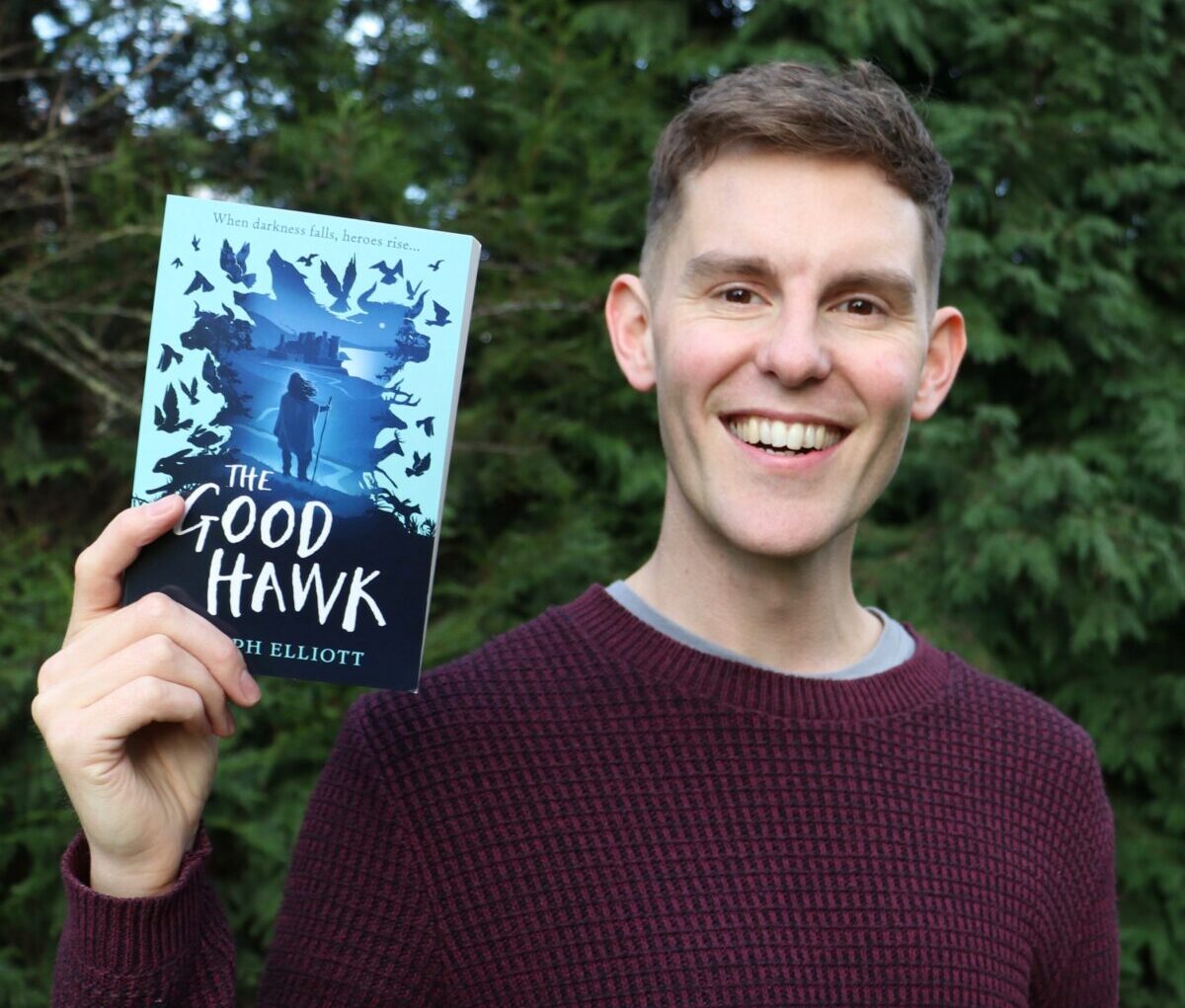 JOSEPH ELLIOTT: THE GOOD HAWK AUTHOR ON THRIVING ON DEADLINES AND EARLY STARTS
The Shadow Skye author and children's television actor talks to Popshot about publishing books during lockdown, his writing life and the poem he wrote for the Growth Issue.
Joseph Elliott might be recognisable to parents of young children as a professional pirate in CBeebies' Swashbuckle, and as several different characters in CBBC's Big Fat Like, but, as well as writing for both programmes, Elliott is also the author of a three-part middle-grade fantasy series, the Shadow Skye Trilogy.
The first two Shadow Skye books, The Good Hawk and The Broken Raven, came out last year and this January respectively. The narrative follows Agatha and Jaime on an epic adventure through an alternative version of Scotland.
Elliott is also a poet, and kindly contributed a piece to the Growth Issue of Popshot Quarterly. We caught up with him to talk about his success, his writing life and publishing his debut just before the country went into the first Covid-19 lockdown.
Can you please set the scene for readers who haven't yet come across the Shadow Skye Trilogy?
Of course. Shadow Skye is an epic fantasy adventure series set in a mythical version of medieval Scotland. It centres around a fearless fifteen-year-old girl with Down syndrome called Agatha and an anxious fourteen-year-old boy called Jaime who are members of a clan which lives on the Isle of Skye. Together, they must cross the haunted mainland on a perilous mission, battling ferocious wildwolves, murderous shadows and dark magic. The series has been described as 'Game of Thrones for teens' which I think sums it up quite nicely – although it's definitely suitable for adults as well!
The Broken Raven was released earlier this year and The Good Hawk came out just before the first lockdown – can you tell us what it's been like publishing books during these strange Covid-19 times?
To be honest, it's been tough, especially as a debut author. It's hard to build momentum with bookshops shut and schools closed, and all of my promotional events and festival appearances were cancelled. Luckily, I have a fantastic PR and marketing team at Walker Books who have worked tirelessly to help promote the book. Word of mouth has also been essential in spreading the word, and I've been delighted to discover that the book has already found its way into the hands of many loyal fans.
You're a screenwriter as well as an actor and many people will know you from CBBC and CBeebies. How do you balance television work with novel-writing?
It's a tricky balance! In general, the two often fit around each other well, as there is a degree of flexibility with both; you can usually predict when deadlines are coming up and work around them. Sometimes, though, there are big clashes – like last year when I had to hand in a huge edit for my third book at the same time as writing, producing and acting in Big Fat Like. That was quite stressful! It resulted in lots of multitasking and very long days, but I thrive on deadlines and having lots to do, so I quite enjoyed it really.
What's your writing process like day-to-day?
I'm really productive first thing in the morning, so I'll get up and start writing straight away. I never set an alarm, and I don't look at the clock when I wake up, so it could be 8am or 3am for all I know – either way I'm just as productive. I work fairly solidly until midday (maybe not quite that long I've been up since 3…) and then give myself the middle of the day off. I'll cook lunch, go for a run, catch up on admin etc, before squeezing in another couple of hours writing between 4 and 6.
This issue of Popshot is all about growth. Without spoilers, can you give us a sense of the struggle and growth of your main characters in the Shadow Skye series?
Ooh that's quite tricky without spoilers… Okay, I'll try: Agatha is often belittled and patronised by others because of the fact that she has Down syndrome (although the condition is never specifically named in the novel), and part of her journey is proving just how capable she is, and that her differences are often her greatest strengths. For Jaime, his struggle is internal; he suffers from panic attacks and has low self-esteem. His journey of growth is one of self-discovery and self-belief, which I hope many readers will also be able to relate to.
Check out Joseph's poem in the Growth Issue of Popshot Quarterly.

To ensure that you never miss a future issue of the print magazine, subscribe from just £24 for 4 issues.