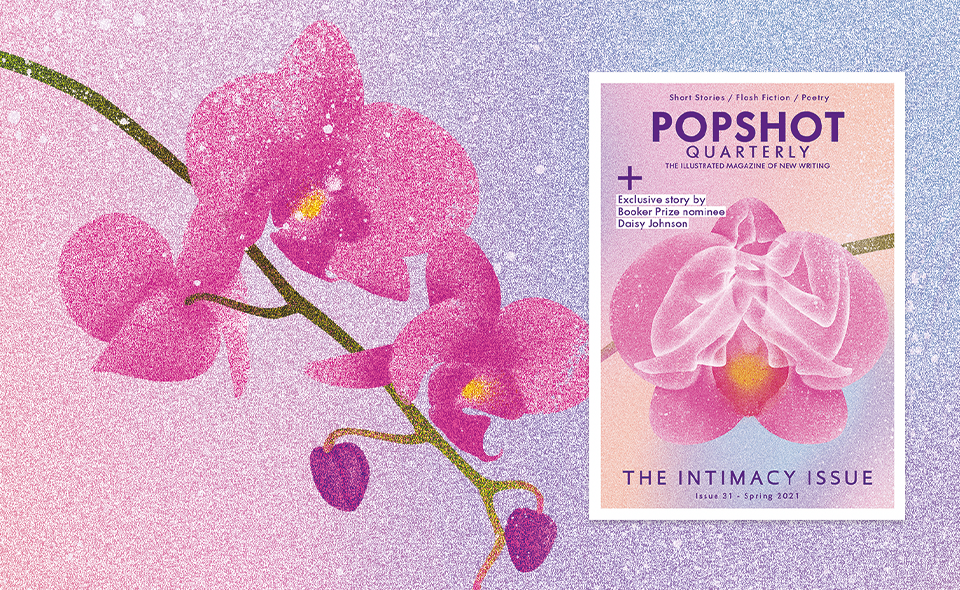 THE INTIMACY ISSUE IS HERE!
The 31st issue of Popshot Quarterly is now on sale featuring a short story by guest author Daisy Johnson. Cover illustration by Chuchu Briquet.
The Intimacy Issue is a collection of vivid writing about human connection. Providing a window into other people's sex lives, comic observations of intimacy, and sharp moments of missed affection, it also includes a short story by Daisy Johnson.
Words by Trista Wilson, James McDermott, Kayla Jenkins, Victoria Jeynes, Anna Dempsey, Steve Head, Erin Coppin, Amy Barnes, Alan McCormick, Hannah Hodgson, Daisy Johnson, Alan Semerdjian, Iona Rule, Andrew Dias, Marie O'Shea, Rowena Warwick, Elaine Ruth White, Holly Challenger, Victor Ugo, Emily Wilcox, Rosemary Gemmell, Rebecca Myers, Megan Thomas, Madison Rahner, Ellie Brundrett.
Illustrations by Allie Sullberg, Andrea Safarikova, Beatrice Simpkiss, Cara Rooney, Chuchu Briquet, Ciaran Murphy, Clare Davis, Freya Lowy Clark, Jason Chuang, Jodie Welsh, Jonty Howley, Kasia Kozakiewicz, Katy Streeter, Liam Woodruff, Lizzie Quirke, Lorna Dolby Stevens, Lucy Morwen, Martha Bräuer, Natka Klimowicz, Natsumi Chikayasu, Nina Goodyer, Sarah Wilson, Simona De Leo, Tzu-Chun Chang, Wesley Barnes, Zach Meyer.
By subscribing to our print edition you can read all four issues published throughout the year from £24. A printed copy of the magazine will be delivered direct your home each quarter—and you will also get access to our full digital archive. Click here for more information.
The digital edition of Popshot is available for reading on tablets and desktop and you will receive free access to the complete magazine archive with your subscription. Click here for the app, here to read Popshot via ISSUU, or here to read via Readly.

To ensure that you never miss a future issue of the print magazine, subscribe from just £24 for 4 issues.