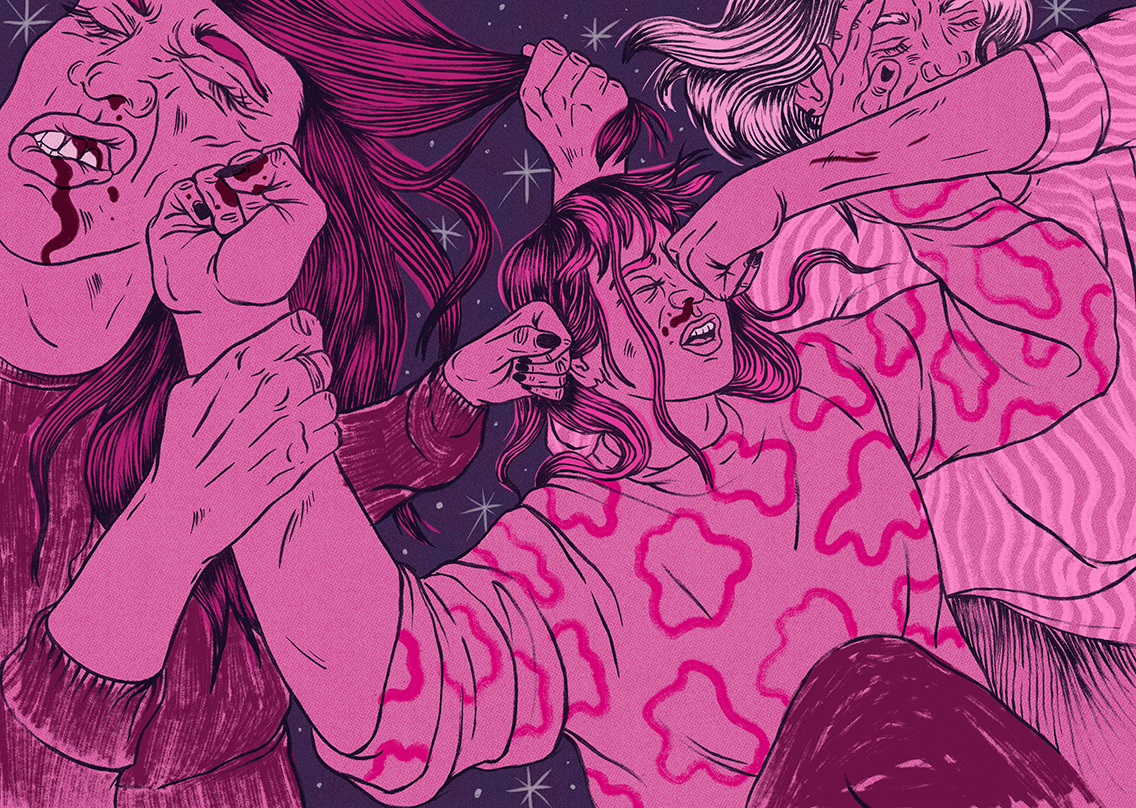 INTIMACY: SNEAK A PEAK AT DAISY JOHNSON'S SHORT STORY 'MARLA'
This short story by the Booker shortlisted author features exclusively in The Intimacy Issue of Popshot. Read an extract below and find the complete story in the magazine now. Illustration by Natka Klimowicz.
And of course, there is the year where she thinks: I cannot do this. And she remembers the awful boyfriend she had when she was twenty-one who she both loved and hated with equal measure; the awful boyfriend who started turning up with skin like split peaches and weeping, mucus filled wounds on his face. How proud he was. He dripped blood avariciously onto the bed sheets, spat loose teeth onto her belly, pressed her fingers into his sores. It is meaningful to think of him now because her body is beginning to feel less and less like her own and she understands that if she were ever to fight for the joy of it, it would not be for the reasons that he had but rather to bring her body back to herself, to call it whistling back from the edge of her thirties and the imaginary babies she may or may not have.
That year there are four baby showers and double the number of weddings. Marla goes to an enormous shop and buys six of the same overpriced stuffed giraffes. For the weddings she gives money towards honeymoons and mortgages and new cars and wears the same blue suit with a bow tie which Simone got her for her twentyfifth birthday. Afterwards they stay in travel lodges or tents or, once, a communal yurt and Marla, arms wrapped around Simone's shoulders, dreams about babies. In the dreams the babies bubble from the ground like hot springs, their faces broken into wails, their fat hands clasping at her as she tries to hold all of them at the same time. On the phone her twin sister, Imogen, says that by the time their mother was their age she already had three children and no wonder Marla is panic dreaming about pregnancy. Imogen says that sometimes she dreams there is a tiny creature living inside her, somewhere between a child and a tape worm and that it will never come…
Read an interview with the author here and the rest of this short story in the latest issue of Popshot. Buy it now.
By subscribing to our print edition you can read all four issues published throughout the year from £24. A printed copy of the magazine will be delivered direct your home each quarter—and you will also get access to our full digital archive. Click here for more information.
The digital edition of Popshot is available for reading on tablets and desktop and you will receive free access to the complete magazine archive with your subscription. Click here for the app, here to read Popshot via ISSUU, or here to read via Readly.

To ensure that you never miss a future issue of the print magazine, subscribe from just £24 for 4 issues.