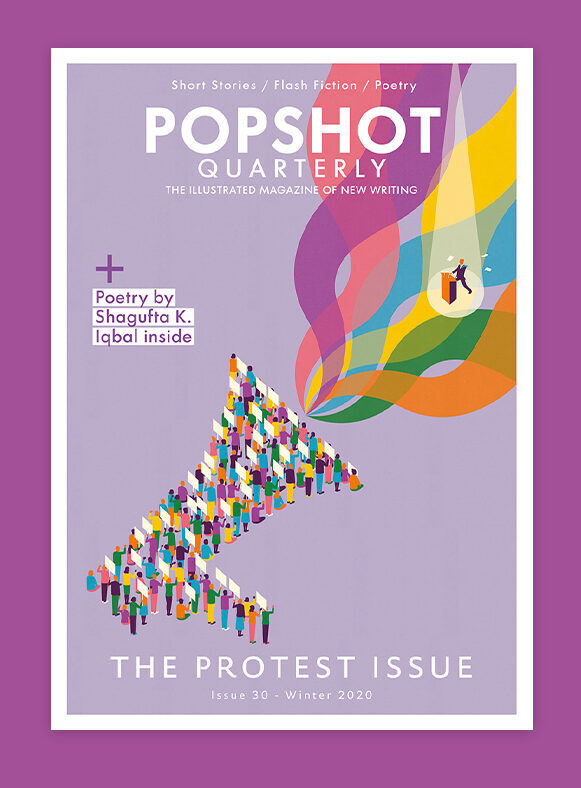 THE PROTEST ISSUE IS HERE!
The 30th issue of Popshot Quarterly is now on sale featuring a poem by guest author Shagufta K. Iqbal. Cover illustration by Neil Webb.
The Protest Issue is a collection of vivid writing about what leads people to take to the streets or to speak out in protest. It includes literal and allegorical forms of opposition, from loud and shouty activism, to awkward but neccessary acts of solidarity, and hidden demonstrations of dissent.
Words by Harry Wilding, Lyn Patterson, Niklas Salmi, Vivian Pencz, Jonathan Pizarro, Kevin Mannion, Veronica Mattaboni, Jesse Little, Oeil Jumratsilpa, Lucy Thorneycroft, Leila Slim Diakomanolis, Sophie Kearing, Shagufta K. Iqbal, Sam Roberts, Sam Burt, Eva Hibbs, Gail Anderson, Adam Schwartz, Chiara Bullen, Elliot Harper, Peter Grandbois, Elle Heedles, Tammy Zhu, Alison Binney.
Illustrations by Antoine Doré, Charlotte Bayliss, Connie Noble, Freya Lowy Clark, Hazel Mason, Isip Xin, Jack Holland, Janina Diller, Jared Briggs, Jen Yoon, Jet Hilferink, Lea Linin, Lizzie Quirke, Maisy Summer, Naomi Ann Clarke, Neil Webb, Nell McKeon, Where I Draw, Sabba Khan, Salvador Verano, Sophie Parsons, Sophy Smith.
By subscribing to our print edition you can read all four issues published throughout the year from £24. A printed copy of the magazine will be delivered direct your home each quarter—and you will also get access to our full digital archive. Click here for more information.
The digital edition of Popshot is available for reading on tablets and desktop and you will receive free access to the complete magazine archive with your subscription. Click here for the app, here to read Popshot via ISSUU, or here to read via Readly.

To ensure that you never miss a future issue of the print magazine, subscribe from just £24 for 4 issues.