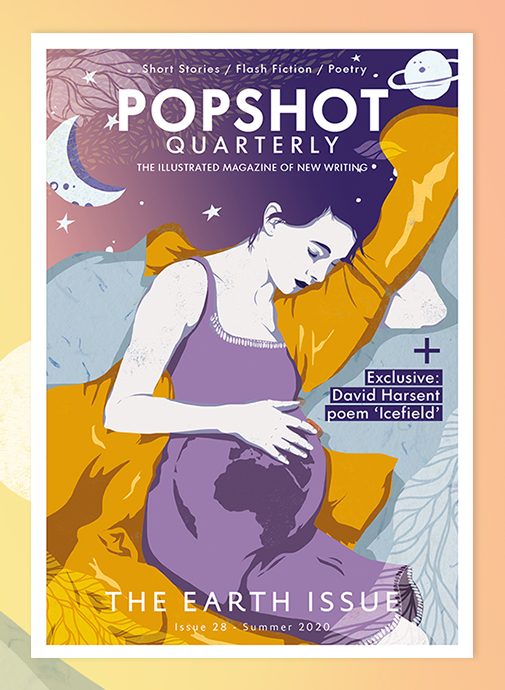 The 28th issue of Popshot Quarterly is now on sale. Cover illustration by Sylvia Stecher.
The Earth Issue is a collection of vivid writing about the power of our planet, its creativity and our connection to the soil. This engaging selection of short fiction features animal gods, billionaires who escape pandemics on private islands, bodies that sprout flowers, ghosts, and unearthed mysteries. This issue features an exclusive poem by guest author David Harsent.
Words by Miriam Spinrath, Lotte van der Krol, David Harsent, Ty Landers, Natalie Hunter, Daniel McLeod, A C Bevan, Sam Payne, Katie Oliver, Ross Duggleby, Clio Velentza, Emma Mary Hulonce, Robert Bilinski, Michael Ihming Jones, Gregory Dally, Alison Patrick, John Christopher Johnson, Zoe Marzo, Paula Turner, Natascha Starr, Lesley Benzie, Laurence Sullivan, Denni Turp, Claire Kotecki, Ruth Grearson.
Illustrations by Aydan Hasanova, Buba Viedma, Ciaran Murphy, Claudia Salgueiro, Connie Noble, Emilie Muszczak, Fran Hu, Grace Lanksbury, Harriet Lyall, Hattie Clark, Julia Barnes, Kathryn Martin, Laura Parker, Lorenza Cotellessa, Monika Stachowiak, Mulletman, Neil Webb, Olga Zalite, Rebecca Dennis, Roshi Rouzbehani, Sancia Rose, Shaun Lynch, Sylvia Stecher.
As we are unable to offer single purchase print copies of Popshot by post at the moment, and as it is less available in bookshops due to the Covid-19 pandemic, here are some other ways you can read Popshot:
By subscribing to our print edition you can read all four issues published throughout the year from £20. A printed copy of the magazine will be delivered direct your home each quarter—and you will also get access to our full digital archive. Click here for more information.
The digital edition of Popshot is available for reading on tablets and desktop and you will receive free access to the complete magazine archive with your subscription. Click here for the app, here to read Popshot via ISSUU, or here to read via Readly.
For a limited time only you can take out a trial subscription of two issues for just £7.50.

To ensure that you never miss a future issue of the print magazine, subscribe from just £24 for 4 issues.