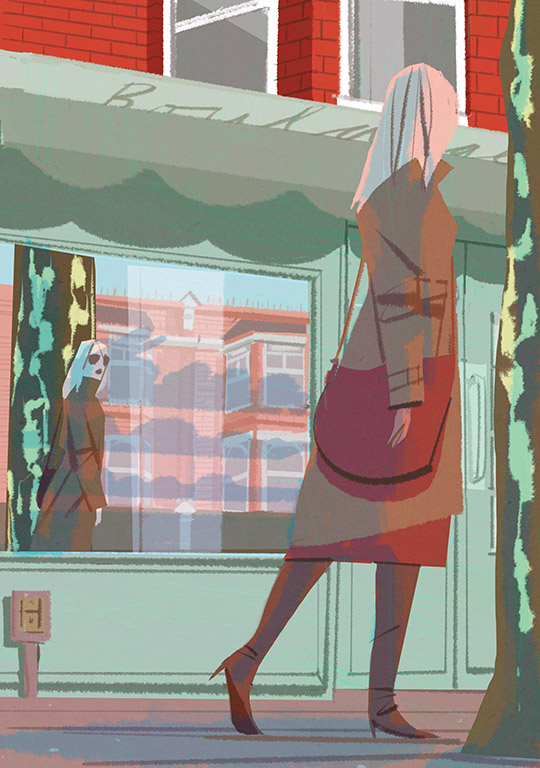 CHARLOTTE PHILBY INTERVIEW: I DON'T WANT TO GLAMOURISE THE WORLD OF ESPIONAGE
The author of A Double Life and The Most Difficult Thing speaks to Popshot editor Matilda Battersby. Illustration by Richard Allen.
Charlotte Philby has the ideal surname for a writer of spy novels. Her grandfather was Kim Philby, a British intelligence officer and a double agent for the Soviet Union, a member of the Cambridge Five spy ring which passed information to the Russians during World War Two and the Cold War.
Charlotte worked for many years as a newspaper journalist, features writer for magazines and also founded an online magazine about parenthood, having gone freelance after having her second child.
She has since turned her pen to novels and has partly taken inspiration from her grandfather's story to look at the impact of lies and espionage on families and relationships, rather than just on the state. Her first novel The Most Difficult Thing was published in hardback last year and is soon to be published in paperback under the alternative title Part of the Family. Her second novel A Double Life, hits book shops this July.
She agreed to be the guest author for The Mystery Issue of Popshot, writing a short story that doubles (appropriately!) as the opening of her forthcoming novel.
1. Did you always want to write novels and how different was it taking the plunge from writing journalism to writing fiction?
I have wanted to write novels for as long as I can remember, and wrote my first (in first-draft form only) nine years ago, whilst on my first maternity leave from my job as a newspaper journalist. The day I went back to work after eight months away, scrawling passages of a detective story while the baby slept, I typed The End and ill-advisedly pinged it off to a few agents in an extremely shoddy form (think six different fonts and scenes that cut off halfway through…) Strangely, each agent refused to take it on. I came close with a couple of them who suggested I have another go and then resubmit but ultimately I really lost my confidence for a while. Then in 2017, when my third baby was one and I'd recently folded the business I was running to go freelance, I decided to do an online creative writing course and the idea for my first published novel – something quite different to the one I'd tried doing before – finally came clear. Writing that was quite different to writing book two as I had no idea it would be published so it was more for my enjoyment rather than the sense that someone would end up reading it.
My old creative writing teacher, the poet Martina Evans, once memorably told me that being a journalist was the worst thing you could do if you want to write fiction because it teaches you to write according to subscribed methods and constraints. She was totally right. That said, my training as a reporter on a national paper where you might be required to churn out 2000 words a day was incredibly useful in terms of my productivity. It also means I'm very used to being edited and rather than being precious about my work, I value the judgement of others. In journalism, it is your duty to tell someone else's story in a way that is fair and impartial. Ultimately you become the custodian of someone else's truth, with what and how much is said dictated to a degree by the agenda of the organisation you're writing for. Often you're necessarily limited by what is known or what fits your allotted word-count or what, for legal reasons, can be said. I think in some ways I was a terrible reporter because I hate being strictly confined to facts; I'm so much more interested in imagining between the lines, exploring the story that isn't being told.
2. Can you please describe your writing routine when it comes to approaching a new idea for a novel? Are you a planner or someone who flies by the seat of their pants?
I think I'm both. I struggled with managing the sheer volume of information and words with my first book, and for a while used Scrivener to enable myself to edit more easily. But then I found it a real ball-ache when it came to transferring the manuscript to Word to share edits with my editor (I'm a terrible luddite). So, before embarking on book two I covered one of the walls in my office with cork tiles. When planning that book (and similarly with book three which I'm currently 70k words into), I typed up my synopsis then broke it down into scenes, before writing each of these by hand onto post-it notes (pink and yellow, respectively, for each of my protagonists) and tacking them to the wall. I could then move them around and see what worked, in a more manageable, visual way. Inevitably, both books have morphed into something completely different since those clear and well-intentioned beginnings. At 70k words into my third, I'm now wondering where the hell it is going. It's part of the excitement and the terror that keeps me going.
3. I read in an interview you did with the Guardian that your grandfather's disappearance from your father's life partly inspired your debut. Can you talk about that a little bit and about how it might also have informed A Double Life?
I'm really interested in the way we think about spies and people who dupe or betray the people around them. Historically, when we think about men like my grandfather, Kim, we always couch his betrayal in terms of the country and the men he worked with. No-one gives heed to the fact that he also had five children and a wife at home, who were equally duped. Once I started having children of my own, I thought about what it would take for a woman to leave her family, and what that would look like.
Both my debut, The Most Difficult Thing, and A Double Life open with a woman walking out on her family in a very high-stakes scenario. Although very different stories, both books ultimately pivot around the conflict between a woman's commitment to a cause/job when in constant opposition to her family commitments, as well as the intense internal struggle and paranoia that must accompany the deceit involved in living such a double life.
4. Women are often merely part of the body count in spy thrillers. How important is it to you to have high flying, powerful female protagonists?
I think it's really important that women are depicted as equally active players in these stories alongside men, as opposed to being relegated to the passive role of lover or victim, as is traditionally the case in spy thrillers. But equally, while I want to portray complex and strong women, I don't want to glamourise the world of espionage. I think it's important that we see regardless of who you are and how important or powerful you believe yourself to be, once you're sucked into this life it is bigger than you and it is murky and you will always be distrusted, used and, ultimately, be considered dispensable.
It's also important to point out that my books, while dealing with international crime and aspects of espionage, are very much focused on the people and the lives that are affected in the process, exploring the whys as much as the hows. It's a delicate balance between domestic noir and spy thriller that (I hope!) has as much heart as it has intense claustrophobia and duplicity. 
5. A Double Life, a short story taken from the beginning of a novel of the same name and printed in Popshot, is brilliantly evocative of the intense stress that carrying secrets must put an individual under, especially when strong emotional ties tear them in two different directions. I'm very excited to read the rest of the novel. Can you tell us (without spoilers) what we might expect?
So, each of these three books (of which A Double Life is the second – the third is out next year) are stand-alone novels, but they all also connect and inform one another. A Double Life moves between the story of Gabriela Shaw, a senior negotiator in the Foreign Office and a mother-of-two, and Isobel Mason, a wayward young local reporter who stumbles upon a terrible crime on Hampstead Heath on the way back from a squat party. Billed as a fast-paced thriller, the book eventually weaves the two women's lives together through the crime they're both in different ways connected to, culminating in a dramatic dénouement that links back to my first novel – but there is no need to read the first one in order to read the second!
Charlotte Philby's novel, A Double Life, will be published in July 2020 by Borough Press, and is available for preorder now.

To ensure that you never miss a future issue of the print magazine, subscribe from just £24 for 4 issues.