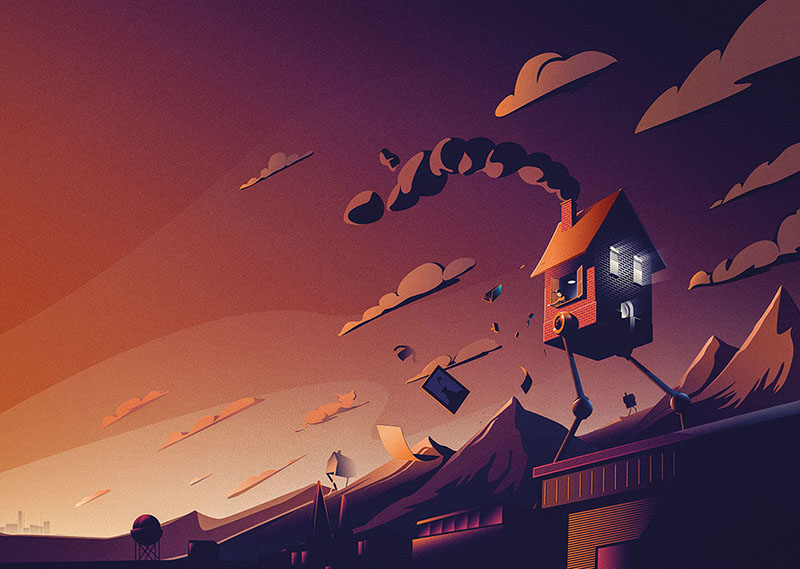 HANGING ON TO A MOVING HOME
This piece of flash fiction by Joshua Preston reflects on the experience of moving and making a life, or lives, with a loved one. Illustration by Jan Siemen.
Stretching its long legs and shaking the sleep from its eyes, our home decided to move. This of course surprised us. You jumped out of bed and ran to hold shut the rattling cupboards. I went around collecting the paintings from the walls and stacked in safe layers the history of our bad taste. As the landscape changed, we watched the prairie give way to skyline to skyline to skyline as our home sprinted from one city to another.
Trinkets from a dozen travels vanished. Shelves toppled over. Books-I-promised-to-read flew out windows and doors. We lost the cat somewhere in Pennsylvania. Things come and go, and we cannot save everything—though you still sometimes talk about that missing sweater.
For years our home kept its pace, and we spent many nights wondering what it was searching for. We never found an answer, but eventually, our home slowed from its youthful sprint to a walk. What we learned from watching the lives of others is that some homes run until they are tired, others until they break. I wish we had that coffee table, and I still feel bad about the cat, but I think we have done well. We are no longer where we started, but we are still here, and how good it has been hanging on for dear life with you.

To ensure that you never miss a future issue of the print magazine, subscribe from just £24 for 4 issues.