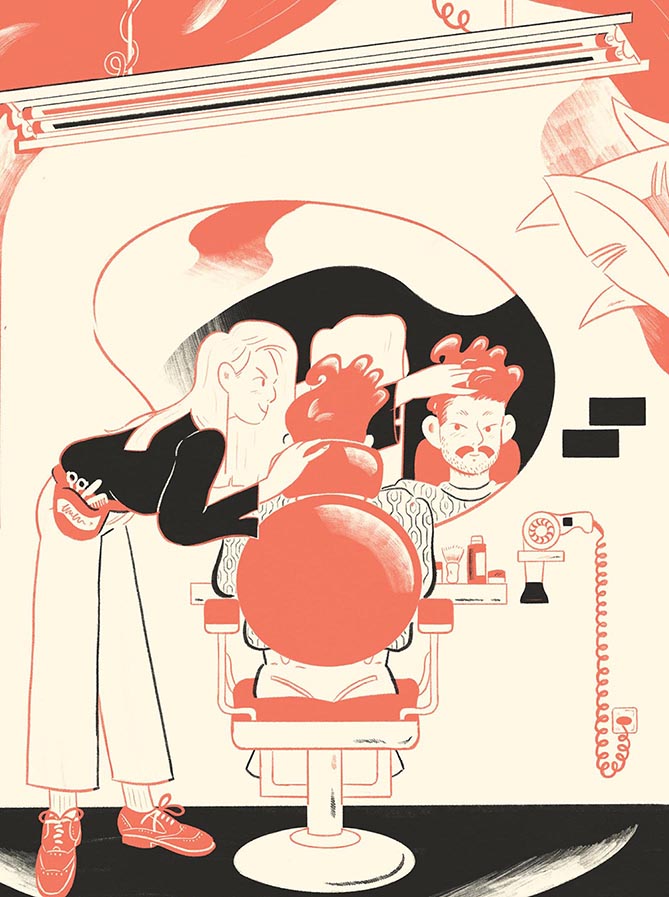 Sherry Morris is a UK-based writer from America's heartland. This story was inspired by her love of facial hair. Illustration by Robbie Cathro
The men who come and sit in my chair never ask what I do with their hair.
Why would they?
And why would they care what I do with their hair?
There's no need to share, reveal the thrill that's laid bare.
That's between me and their hair.
When the bell over the door rings, signalling another customer, my own bell begins to tingle.
Today, it's Justin — tall, lean, pretty Justin with his well-toned biceps.
He comes with unwashed hair and five-day scruff that's thick and lush.  
He could wash his own hair. He could shave his own face.
They all could. But they leave it for me. It's the way I want it.
Perhaps a few have sensed my bond with hair. Appreciated, speculated, even celebrated
The secret that I keep.
Justin knows the routine. He sits in my chair, watches me stare at his hair through the mirror.
When our eyes meet, I give him my best naughty smile. We are alone. It is the end of the day.
I can't resist licking my lips.
'Shall we begin?' I ask, though it's not really a question.
Justin nods. There's little need for talk.
These men who bring me their hair come dirty, scruffy; they want me to make them clean, tidy.
Scratch that surface, dig deeper. It's salvation they seek.
Is that the secret they keep? Everybody has one.
I don't cut hair much anymore. Only if there's need or someone new.
I have enough clients now to concentrate on what I crave — the hot towel shave.
I adore all hair, but facial hair is revered, worshipped, adored.
It's what makes a man a man.
I trim moustaches, shape beards, groom goatees. I'm thrilled they're all the rage.
I clip and snip. Collect all the bits that fall from their face.
And the ones who desire to be clean, I help them achieve their means.
I take it all off, no questions asked. I'm here to serve and please.
Both them and me.
Now it's Justin with the devilish grin on his face.  
We're back in the barber's chair after washing his hair.
I place the cape around the nape of his neck. Let the first hot towel gently steam his face.
While I wait, quick strokes on the leather strop ensure my razor's sharp.
I exfoliate —  massage gel into his skin, lace my fingers under his chin.
Feel his coarse stubble rise in my hands. My heartbeat quickens. Soon it will be mine.
The second hot towel is scented with lavender. And when I'm feeling generous, sandalwood.
I fold and twist the cloth with care around his face, pat his cheeks. Know the bristles are softening, The pores opening, the skin relaxing. Apply thick foam and in a flash the straight-edge is gliding Along the contours of his face.
My own face comes close to his as I work.
It'd be so easy to lean over and plant a kiss, caress a cheek.
But I am a professional.
I stroke up the neck, his Adam's apple. I want the closest possible shave. And all possible hair.
I wipe and rinse the blade with care. Then bite my lip as my excitement builds.
When he goes, when Justin or Joe or Tommy leaves me fresh-faced and smooth, I close up shop.
Gather the stubble, those bristles, that hair.  
It doesn't matter it's from different men with different colours and different lengths.
It's mine now.
At home, on my own, my real work begins. I apply a thin layer of Vaseline to my face.
Then hair. When I see myself in the mirror I exhale. Smile.
Closer to complete, to the secret that I keep.
I experiment with different styles late into the night.
Then I shave myself back to reality.
'One day,' I say.
I dare not dream more.
Those men who sit in my chair and give me their hair appreciate the special care they receive.
Never knowing my salvation lies partly in their hair.
The Barber is from The Identity Issue – Issue 23. Order your copy here

To ensure that you never miss a future issue of the print magazine, subscribe from just £24 for 4 issues.