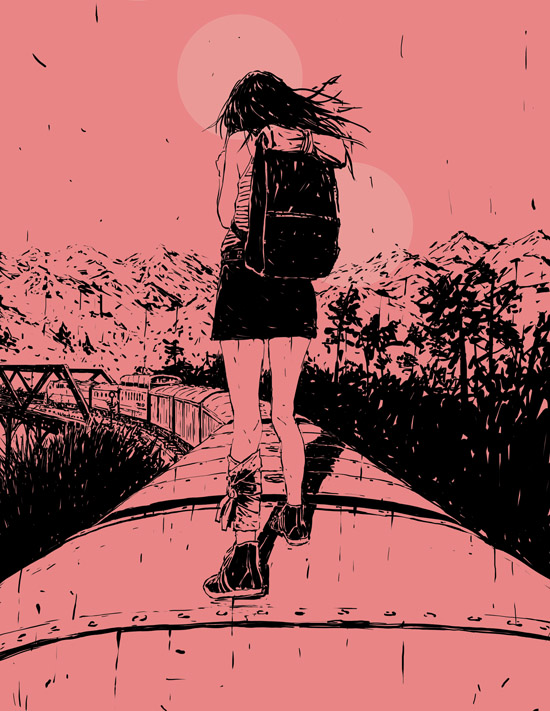 Abigail Hodge's post-apocalyptic short story follows a girl trying to find the one person left who means something to her. Illustration by Adams Carvalho.
Mom
Dad
Gran
Tommy
Isaac
Carol
June
The girl was still sitting in her Aunt Carol's trailer. It had been three days since she crossed off her aunt and uncle's names. Three days since she had tried to give them a decent burial, scrub their blood off the floor, get rid of the smell.
It wasn't just the trailer. The whole town smelled like ash and decay. Almost everyone had the good sense to evacuate, but not Aunt Carol. She and Isaac stayed loyal to their hometown until the end. It looked like robbers had done it, maybe soldiers. It was hard to tell these days.
She got used to the smell. The days dragged on, suffocating her in painful humidity. Inescapable and oppressive. She awoke on the fourth morning thinking she might be dead, vaguely surprised when she realised she wasn't. That's how every morning came now, a rude reminder that her body hadn't yet given out. Waking up in the summer down here was like waking up in a coffin six feet under, but worse. At least down in the dirt it would be cool.
Far off, she heard a sound. The distant, unmistakable rumble of a train. The girl's skin stung as she startled, pulling it sharply away from the nylon couch. Sunlight was already pouring in, turning the place into an oven. She scrambled to the front stairs, using the railing as a boost to get on the roof. There, disappearing into the valley was a train, heading east.
Her heart pounded. If the freight trains were still running, people were alive out there. Maybe the mountains hadn't been evacuated. Even if they had, why would the people there leave? It had to be safer up there than in any camp.
Maybe she wouldn't have to cross out the last name on her list. Her stomach dropped with the horrible feeling that she had already wasted too much time in that trailer.
On unsteady feet, she climbed down from the roof. As soon as she put her weight on the rotting rail, she knew it would break, but it was too late to catch herself. She slammed to the porch, catching her leg on the broken rail. The splintered wood dug in, leaving a gash from ankle to knee. Blood poured down her leg, almost refreshing against her sun-damaged skin. She moved away from the trailer to sit on the dead grass near the mailbox and sort through her backpack. There was no water to waste washing it; better to bandage it and hope for the best. There was water in the mountains, plenty of it. She could last until then.
She ended up with one of Uncle Isaac's old t-shirts, torn up and tied around the wound. It was dirty, but fairly effective. She tested her weight on it. Speckles of blood appeared on the fabric. It would have to do.
She limped down the road towards the railroad tracks, whispering a promise to June.
Before, they had spent every summer together for eighteen years. The last one was cut short when everything started to end. This time she could stay in the mountains.
By midday she was hiking along the forest ledge beside the train tracks. When a train came through, she would be at a good height to jump on top with ease. Hopefully. Her leg slowed the pace, but that wouldn't matter when the train came by. A cool breeze turned her sweat into goose bumps for a moment, hurting worse than the heat.
The whole world was a nightmare, empty and brown. Every new day as hot and ugly as the one before it. Limping through the wasteland, her blood seemed the most colourful thing around. It dribbled down her leg from beneath the rusty brown t-shirt, mixing with sweat and pooling in her boot. She didn't notice she was clenching her jaw until her teeth started to ache. She looked up at the sky, the sun hanging in the same place as when she had last checked. The train had to come soon. Trains would be on schedule even if the sun wasn't.
The dying trees offered little protection. Three days inside had started her sunburn peeling, but being back on the road had turned her hands into raw blisters and her neck into flaming skin.
Tears stung at her eyes, but her body had no water to spare for such frivolity. She couldn't even tell if she was sweating anymore. She wasn't cold, but she shivered. Afraid to stop moving, she pulled a warped water bottle from her backpack and took a sip. The tears still would not come. How could she see June like this? Touch her with festering hands? Kiss her with bleeding lips? Hold her with arms that held death?
Mom
Dad
Gran
Tommy
Isaac
Carol
Each name on the list weighted her steps, opening the wound on her leg further.
Mom. She was in the hospital when the power went off. Even if it had come back, it would have been too late.
Dad was out west when the bombing started.
Gran was just gone. They found her last words on a piece of butterfly stationery on the table. She had said she would rather die by the lake than in a stuffy living room.
The worst was Tommy. He was still breathing when she had made it back home, too stubborn to leave the only town he had known. He died three days later, too weak for last words.
Carol and Isaac. Just a few miles away, already bled out by someone else's hand.
She couldn't sleep next to June knowing she would wake up gasping for air. She couldn't ask June to save her from the death inside her. But there was nowhere else to go.
The low churning of the train broke her thoughts. It was mostly rusty cargo containers, but there were a few grainers near the back. That was her best bet. They were only a few feet below her, she could reach out and touch one if she wanted. She leapt before her courage failed her and smacked onto the grainer with a heavy thud. The whole world shook, flyaways stinging her eyes. Get to the ladder, get to the back, she thought. She crawled, slowly, afraid to slip in her own blood. Her left hand was swelling, broken or sprained from the landing. The thrashing wheels and the threat of being thrown beneath them was enough to drown out the pain.
Step by step, she made her way down the ladder. The warped paint pressed into her hands with each new rung, and little patches of the rusted flakes stuck to her palms like thorns. She stopped for a moment, threading her arms through the metal and clinging on until she had enough strength to make it the last few feet down and collapse on the porch.
Her makeshift bandage was soaked through. She sacrificed her bandana to rebind it, tied the bloody cloth to a rung on the ladder. When it dried, it would protect her head as well as the bandana had. Her swollen hand throbbed, but what could she do? She lay down as best she could and watched the dying land thunder by.
The train horn jolted her awake. She had no memory of falling asleep. Her left hand was stiff, unusable. Her shoe, which she had taken off to bandage her leg, was gone. But the mountains were close.
They rumbled through an out of use station, barely recognisable, but with a sign that had yet to fade completely. She was getting closer. The train took a curve, heading around the mountains. When the land either side of the tracks dropped into gravelly slopes, she knew she could take the train no further. Taking only the water, she slipped the backpack from her shoulders. She wouldn't be needing it anymore.
Breath in, breath out, jump.
The air was knocked from her lungs as she skidded down into the ravine. Still deaf from the train and seeing spots from the burning sun, she lay completely still for some time. But this was not where she would die. Gasping for air, she forced herself to her feet and when she straightened up, she saw the mountain. It was beautiful, a green she hadn't thought existed anymore.
Her body forgot to hurt, if only for a moment, as she began walking. She found the water bottle a few yards away and drank what was left. Her stomach turned, sharp and sickening, with the sudden intake but she didn't stop moving.
As the train faded into silence, an eerie calm took over the landscape. There were no animals left to make noise in the valley. No people either, it seemed. She made her way through the abandoned outskirts of a tourist town — a place of mini golf and decaying statues — leaving a trail of sticky red footprints. At the foot of the mountain a dying church loomed and a wooden board propped outside listed the ten commandments in uneven black paint. That was not a god she could believe in anymore. Instead, she whispered June's name like a prayer for each thorn she stepped on, each murky river she had to cross, each uphill step.
The sky faded red, then yellow, then blue, then black. After what felt like an age, she was at the top of the mountain. The gravel drive had three forks. Muscle memory took her down the middle one. The walk had never seemed so long, but there at the end was June's cabin.
There were no lights on and the quiet from the valley hung over the surrounding forest. None of that meant anything to her, all she could see was the door. She stumbled up the stairs and knocked, leaning her head against the doorframe, staring down. Her blood was staining the doormat. She knocked again, then stepped back. There was no response.
It wasn't odd. June often spent her evenings on the back porch with her grandmother, having a late dinner or reading.
Her muscles painfully stretched out as she reached above the door for the spare key.
It was muggy inside. No one had opened that door in a long time. The dust, the emptiness, the stillness. She tried to call out for June, but it came out as barely a whisper. She didn't try again. The hollowness was apparent. No one was home.
She collapsed in the entrance hall, her body shaking with sobs of pain and loneliness.
Mom
Dad
Gran
Tommy
Isaac
Carol
June
It was still dark when she made it to the kitchen, survival instinct kicking in. There was a pitcher of water on the counter which she drank too quickly, spilling out of her mouth before she could swallow it all. There was no point in rationing. She limped to the living room and collapsed on the couch. The gash was raw and smelled like a corpse. It seemed a blessing now. Better to let the leg take her than wait for starvation.
Three mornings later, she couldn't put weight on it. Her left hand was useless, her skin blistered and peeling as the sunburn healed. All she wanted was a drink of water and to die. She dragged herself to the kitchen, searching for anything to drink. A small river ran out the back, but she had neither the will nor energy to make it that far into the woods. She choked on her own rasping breath as she opened the cabinets. Something taped to the fridge caught her eye. A folded up piece of notebook paper. It had her name on it. A name no one had said in so long. With shaking hands she unfolded it, so delicate and foreign. It was June's handwriting. A promise. Everyone had fled and June had no choice. She had packed up and left, but she was heading west. To find her. I have nothing in this world but I have you, it said.
She read it again, then folded it back. With no other choice, she stood and made her way to the back door.
Mom
Dad
Gran
Tommy
Isaac
Carol
June

To ensure that you never miss a future issue of the print magazine, subscribe from just £20 for 4 issues.