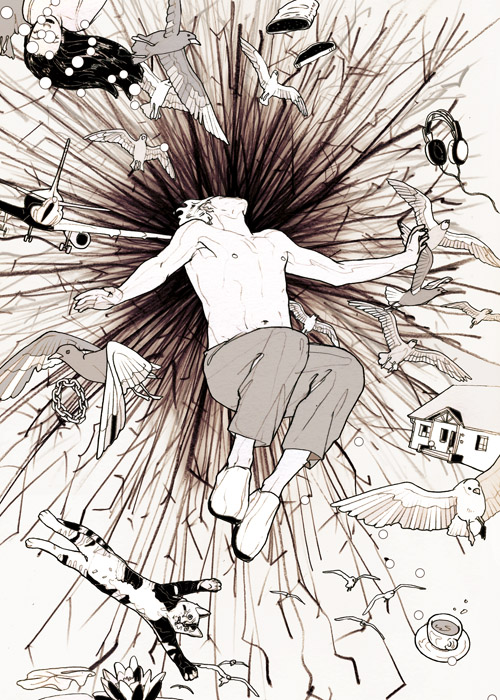 An explosive poem by Sophie Clarke about waking up one morning and feeling completely and utterly alive. Illustration by Tanja Székessy.
This morning I want you to soak me
in rain that chisels my skin, signals a storm's sudden
attack. For you to stand with me in a white, clapping field,
lightning striking centimetres
from our toes, mouths open as we're filled like bottles.
I want you to point out the red organs flowering through my skin.
I want you to hurl me onto a rock face and say
climb. Yes. I want even the bin bags at the front gate
to split and the ordered china in the dining room cabinet to explode.
I want you to take a spray can to the city,
words glittering on billboards and bridges and my letterbox.
I want you to take me up on the hill,
point out my old house and the cherry tree we planted,
fierce as ever. God, I want to feel
the very breath burn
through my throat and lungs, my toe nails
to dig into the thick soil, and now
in a language I do not know but which tinkles
in silver and gold, verb conjugations
to bloom again and again in tiny, shivering violets
exploding from my mouth.

To ensure that you never miss a future issue of the print magazine, subscribe from just £24 for 4 issues.