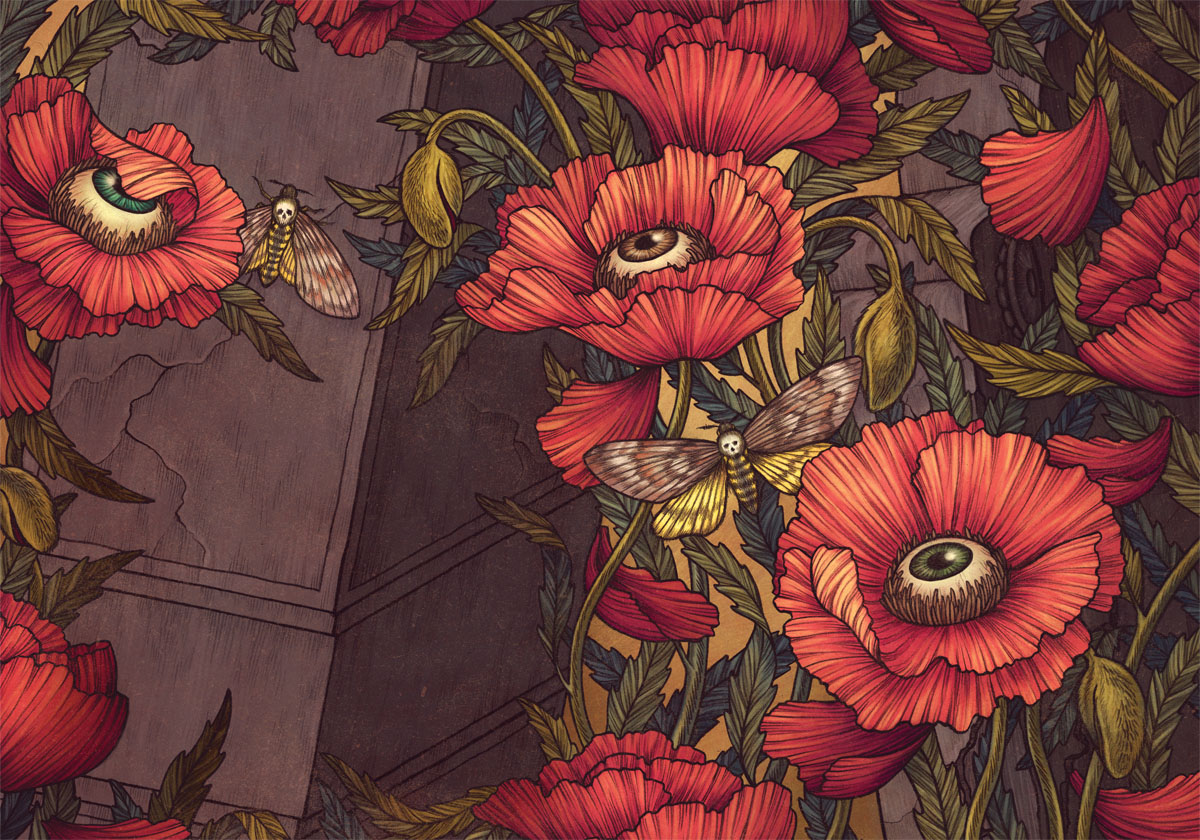 A haunting story by Stephen Hargadon which sees the purchase of an old book lead to devastating consequences. Illustration by Kate O'Hara.
'Good choice. It's a lovely edition and a very fine story.'
The speaker — presumably the owner, or some lesser representative of the bookshop into which Max Lorimer had drifted — was a man with grey, frizzy hair and yellow teeth, who seemed to have appeared from nowhere. A dusty creature, he might have been one of Cruikshank's caricatures come to life. Perhaps this was Mr Perkins himself, the man whose name was above the shop. He had a twinkly, ingratiating manner, as if proffering something for the weekend, and wore a tatty black jumper under a many-pocketed waistcoat of the kind used by anglers. Lorimer noticed that there was a bulge in every pocket, with pens sticking out, so that the garment resembled a collection of pencil cases stitched together.
'Only came in yesterday,' said the bookseller. 'First edition of course. Dapper jacket, great design. Highly collectible. Sturdy binding, deckled edges. It's even signed by the author herself. Look. Isn't that wonderful? A gem! Of course, such details affect the price. Five, ten years ago, I couldn't give her away. You'd have found her in the 50p box out the front. But she's undergoing something of a reappraisal, a revival. I wish I could have a revival. There was a nice piece in the TLS. Of course, the cultists never deserted her. They kept the faith.'
'Cultists?'
'Figure of speech. The fans. The devotees.'
Max Lorimer, dapper in light tweeds and a pale pink shirt, considered the book and then the bookseller.
'It's a handsome thing,' he said. 'Handsome price too.'
'As I say, it's signed. She was something of a recluse, I believe. I've never seen a signed edition before. And the condition, well, you can see for yourself it's almost immaculate. A touch of discolouration, you'd expect that, some slight foxing, but otherwise top notch.'
'Could you do a deal?' asked Lorimer.
'Eighty pounds is the lowest I can go.'
'I'll have a think about it.'
'Right you are. I'll be over there if you need me. Lots of sorting to do. Just had a consignment of Penguins.'
The man, seeing that Lorimer was not going to comment on the Penguins, scuttled past Philosophy, turned right into Local History, and sat down at a desk in the corner, where he began to inspect a stack of orange spined paperbacks, muttering to himself.
Lorimer, satisfied that he would not be interrupted again, turned the book in his hands and flicked through its pages. It was indeed a fine edition. Through The Flowers by Felix Colyer — the pseudonym of Phyllis Gauld. Published by Lemmer and Haughton in 1952, with illustrations by Harris Quinnell. The jacket, also by Quinnell, showed a delicate, rather romantic drawing of a wildflower meadow, framed by vibrant geometric patterns. It was a peculiar combination, but it worked. The lettering was bold and white. Looking closer, Lorimer saw that at the centre of each flower was an eye, some of which were shedding tears of blood. From a distance, these tears looked like petals. The effect was most unsettling.
The inscription on the frontispiece was similarly odd, for it was signed Phyllis not Felix, and contained a rhyme.
To one of the best –
Through the flowers my darlings go,
Year by year their flowers grow
All my love – Phyllis xx
Lorimer was surprised that the zealous little man hadn't mentioned the personal nature of this inscription. The book was a great find. A charming and, no doubt, highly desirable edition. Was eighty pounds too much? Lorimer did not know and he did not have the appetite to look it up on his phone. To do so would sully the magic of the discovery, for he already knew that Valerie would love the book.
The author of Through The Flowers was a writer of strange tales and macabre, sometimes brutal fantasies. She had a penchant — in her fiction, if not in life — for doing terrible things to children, and this talent gained her a small but committed following. She drowned her little folk in baths or hanged them from horse chestnut trees. She left them alone in basements and attics, among the musty and discarded effects of adults. Colyer's was a peculiar style: chatty, rambling, seemingly inconsequential. Her finest work was built around 'a web of sullen trivialities', as the critic Peter French put it, and the reader would realise too late that they had been caught, at which point spiderish Colyer delivered her venom. Another expert likened her prose to 'the tea-and-biscuits chitchat of a maiden aunt, if maiden aunts still exist, which they do in Colyer's world, if only to be chopped up into several pieces.' Her output was small, and the novella Through The Flowers was perhaps her most accomplished and original work, though not her most popular.
Lorimer looked through the book again. The illustrations were delightful, he had to admit. Eighty pounds was a lot of money for a book, even for Lorimer, who could well afford it, for he made a decent living as a freelance logistics consultant. Never an avid reader of fiction, he enjoyed a spot of Dickens on holiday — Barnaby Rudge in Provence, Martin Chuzzlewit in Sicily — but mostly stuck to politics or history, occasionally cricket. He'd certainly never been picky about specific editions. Valerie, however, his partner of eighteen months, was a confirmed bookworm. Her flat in Lytham was lined with books; they seemed to sprout from the walls. He found them on tables, chairs, even in her bed. He knew that she had been devoted to Colyer in her teenage years, reading cheap paperback editions until they fell apart. In fact, she still had them, covered in obsessive notes. A man not given to superstition and less given to visiting musty bookshops, Lorimer nonetheless felt that fate had brought him here to buy Valerie this precious and beautiful volume.
'I knew you'd take it, sir,' said the eager seller, looking up from a scattering of Penguins. 'It's such a pretty thing. Hard to resist, isn't it? Are you a Colyer disciple?'
'Not particularly. It's a gift.'
'Yes, I'm sure she'll adore it. I presume it's a she? They often are. Just look at the artwork on the cover. Fascinating detail, isn't it? You could stare at that for hours. Are you interested in Quinnell by any chance? Underrated artist. I have a delicious volume of his Cirencester woodcuts. Only fifty were ever printed. No? Oh well, if you change your mind you know where to find us. I'll slip one of these in. We've just had them done.' The shopkeeper showed Lorimer a bookmark. One side gave the shop's details — ARNOLD PERKINS RARE & COLLECTIBLE BOOKS, Specialists in Modern First Editions & Literary Ephemera, 9 Fox Street, Burnstone, Lancs— along with the types of stock it held, everything from religious tracts to medical monographs. The shopkeeper flipped the bookmark to show the other side, a photograph of a summery, flower-flecked field. When the man tilted the image, it changed to a winter scene, frost and bare trees beneath a severe blue sky.
'Clever isn't it? Holographic. We had them done specially.'
'Most effective,' said Lorimer.
'That's Hopper's Meadow. Lovely at this time of year. A riot of colour. Wildflowers. It's not far. And that winter one, that's Leppard Woods, next to the meadow. It's a lovely bit of country round there. Great for walking. Are you a walker, sir?'
'Only from A to B.'
'I see. Motorist are you?'
'Yes, but not a car cultist. I drove up this morning from Marple with my partner. She's staying at Brindle Lodge. Art holiday.'
'Oh yes, that's getting to be very popular. She'll be painting in Hopper's Meadow, I expect. Lovely up there it is. A real display.'
'She's looking forward to it,' said Lorimer.
'And you, are you an artist, sir?'
'Can't draw to save my life.'
'No one is required to. Are you staying on in these parts? Visiting the castle, perhaps? The lake at Meazey Vale? The old quarries?'
'No, just passing through. I saw your shop and was curious. I thought I'd have a nosey. A rather expensive nosey, as it's turned out.'
'Your lady friend will thank you for it.' The man had already returned to his Penguins.
'Thank you. Goodbye,' said Lorimer.
'Au revoir,' said the shopkeeper without looking up. 'Call again.'
*
It was an overcast day. Having put the book safely in his car, Lorimer walked around the village. There wasn't much to see. A church, a graveyard, a rather plain war memorial. He had last visited the place ten, perhaps fifteen, years ago. It had been a vibrant place, full of families and quirky shops. He had come with his wife at the time, Judy, to visit an antiques fair in some hall or other. But the hall was no longer there, replaced by hutch-like flats, most of which looked empty. He saw a sign for the woods and the meadow that the bookseller had mentioned. He put his head in at The Bell, hoping to have lunch, but found it a gloomy place, smelling of grease and cleaning fluid, the endless interior punctuated by huge screens showing sports news.
He bought himself some chips from a place over the road and sat down to eat them by the war memorial, hoping the rain would hold off. He tried to remember that day with Judy but it wasn't clear. They had separated since then and he had seen her on two, possibly three occasions. They didn't keep in touch. He did not desire her friendship, and he did not think it fitting to remain friends, yet the absence of her somehow rankled. She had remarried, a decent fellow called Ian, a town-planner. Lorimer was not enjoying his chips. He tried not to think of the past but coming back here made it inescapable. Perhaps it had been a mistake to come, although he had managed to find a wonderful gift for Valerie.
He had been seeing Valerie for two years, although they did not live together. Valerie, a skilled amateur painter, but lacking in confidence, had been persuaded by Lorimer to spend a week at Brindle Lodge, an artists' retreat not far from Burnstone. The previous night, she had travelled from Lytham to stay at his place in Marple — wine, curry, a dull French film. In the morning, he drove her up to Brindle Lodge, a secluded spot in the Lancashire countryside. On the way, they stopped off at Burnstone for a coffee, it had been too early for lunch. After parting at the Lodge — 'I feel like it's my first day at school,' she had said — he returned to Burnstone and found himself in the bookshop, intrigued by its cluttered windows.
He felt a raindrop on his hand, then another on his cheek. They were light, skittish drops, but they quickly gathered momentum, and soon the sky was ragged with rain. He ran to his car.
*
Back home in Marple, Lorimer looked at Through The Flowers. It really was a lovely edition in every way. The drawings inside were marvellous. Even the novelty bookmark pleased him. It was a slim volume, not much more than a hundred pages. After dinner, Lorimer settled down to read.
'In all my life, I have never felt as much joy as I did on the day that I first walked through the old meadow on the far eastern edge of my grandfather's farm. I had no inkling then of the happiness and horror I would find among those wild, flaming flowers. I don't mind admitting that I was a bit of tomboy in those days. Mrs Parry…" Lorimer, sat in his favourite leather armchair in front of a blank television screen, sipped his whisky and turned the pages. He found it an easy enough read but after fifteen pages, he nodded off. When he woke up, he watched a bit of news before heading to bed, taking the book with him, but he could only manage a couple more pages.
In the morning, he received a text from Valerie. Love u darling. Lovely here. Painting meadow 2day! Gulp! Hope yr well Xxx. He sent a reassuring and affectionate reply, wished her luck with the painting, and settled down to Through The Flowers. Refreshed by a good night's sleep, he raced through the pages. He found himself absorbed in the singular world Colyer had created. By mid afternoon he had finished the book. He felt a tingle of satisfaction, a feeling soon dulled by the realisation that the pleasure had ended. Although he was happy with having reached his destination, he wanted the journey to continue. He picked up the bookmark and flipped it, looking at the scene change from pretty meadow to austere woodland. He thought he saw something in the image just as it changed from summer to winter: a shadow, a glimmer. He tilted the bookmark ever so slightly, and there, in the meadow, among the flowers, a body appeared. It was definitely a body. A woman's body, slashed and hacked, sickeningly desecrated. It was Valerie. Clearly flustered, he threw the bookmark away.
When he picked it up again, and tilted it, he saw no body, just the meadow and the wood, winter and summer. A sordid daydream, he thought, a trick of the mind.
At that point his phone rang. It was Valerie's number.
'Hello darling,' he said. 'How's the meadow coming along? I was –'
'Is that Mr Lorimer? Max Lorimer? I'm afraid I've some bad news.'
The voice, which was fast and brusque, not unlike that of the bookseller, told him that Valerie Hopkins was dead. Butchered in the flowers. Lorimer tried to interject but the voice went on, detailing the brutal event as if describing the condition of an old book. 'It's shocking what some men think and do.'
The voice was still speaking as Lorimer let his phone drop. He saw the bookmark on the coffee table, next to the book itself. Feeling nauseous and disorientated, he sunk back into the armchair where he had finished Through The Flowers. He called Valerie's number but the line went dead. He looked at the slim volume, with its field of eyes on the cover, its proliferating witnesses, and remembered the closing lines. 'And that, dear friend, is how the flowers come to look so bright, so gleaming. But you have freed me from my curse. For, in reading these lines, you have taken on my contagion, my rot. You have absorbed it into your soul, your heart, the canker is seeded within you, and I thank you for it, reader, for you are now the one to weep and grieve, for you have plucked the flower of death.'

To ensure that you never miss a future issue of the print magazine, subscribe from just £20 for 4 issues.