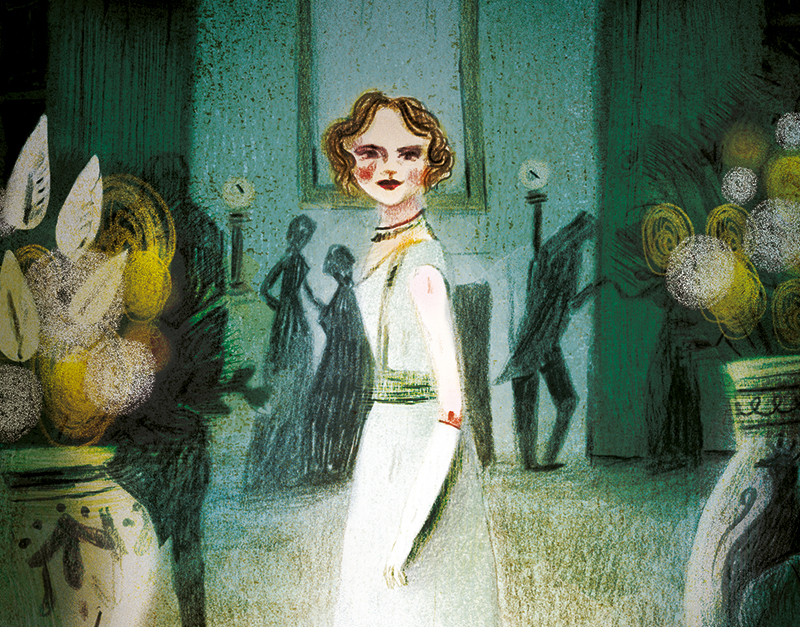 Robin Vicary's short story is set in nineteenth-century Paris and is a homage to Guy de Maupassant. Illustration by Emily Wren
My name is Pierre Lasalle. I am old now, but when I was a younger man I was a teacher at the primary school in Douarnenez on our west coast. Before I am in my grave, I want to record the sad yet remarkable story of Georges Derain.
Georges was born in September 1884 into a poor farming family in a small village about ten kilometres to the east of Douarnenez. Doubtless, dear reader, you will know our pretty town and port on the coast of Brittany. You may even have heard of our fishing fleet, well-known for the multicoloured decoration of the boats. The departure of the little ships from the harbour at dawn, lit from behind by a low-lying eastern sun, cannot fail to bring a glow of pleasure even to the most saddened heart. Sometimes, waking early as I do these days, I will walk the short distance from my home to the harbour, where I will sit on the wall and contemplate the beauty of the masts, the sails and the hard working fishermen steering their gay boats into the rough Atlantic waves.
I knew Georges when he was a boy, as I taught him at the school. He was a nice- looking, if rather skinny lad with sandy coloured hair and a somewhat cheeky grin always on his freckled face. Even when young he showed a great intelligence at mathematics and was our star pupil until he left to go to secondary school at Quimper. When he was 18, he won a scholarship in mathematics to study at the old and well-respected University Paris Diderot. Georges was kind enough to send me regular letters keeping me in touch with his progress. The Professor of Mathematics at the Diderot was impressed with the young man from the provinces and, being influential politically, helped Georges to find employment as a clerk in the Ministry of Public Works. Over the years, Georges rose through the ranks of his office until he had acquired a position of some influence in the sector responsible for road construction throughout France.
One warm Parisian day he was sitting on a bench in the Jardin du Luxembourg; his habitual lunchtime pleasure. All around him were mothers, children and a few gentlemen like himself. He lazily watched the children playing with their hoops and pebbles while their mothers chatted, absorbing the sunshine with obvious pleasure after the long and cold winter. Suddenly there was a cry, and to his surprise a lady's hat landed at his feet. The hat was round and white; broad-brimmed and with a yellow ribbon. He reached down to pick it up and observed a pair of delicate white shoes. His eyes followed the shoes upwards and eventually arrived at a pair of pretty eyes.
He sat at his desk looking at the envelope with excitement and foreboding. A thousand possibilities ran through his mind
'Mon chapeau s'il vous plait, monsieur.' He jumped to his feet and handed the lady her hat.
'Thank you for your kindness,' she smiled at him. 'It is of course my stupidity. I knew when I purchased this hat that it was too big, but I was so tempted and this was the only size. Now with every puff of wind, it flies from me with a mind of its own.'
'Your hat has cheered me up enormously,' he told her.
'How could that be?' she asked.
'I was struggling with a problem from my work,' he replied. 'And your hat has provided me with the answer.'
'How remarkable!' she said. 'I will sit down so that you can tell me about my intelligent hat.'
'Of course, mademoiselle, but it may not be so very interesting. The answer is that your hat is not really so intelligent. At the moment that your round hat landed at my feet, I was struggling with the objections of a mayor of a small town near Vichy to my plans for making a road between two bigger towns on either side of his. The road would pass through his town. Immediately, the shape of your hat showed me the solution – I would take the road around his town. I cannot believe that I did not see it before, but sometimes one needs a hint from God, or even just a beautiful hat, to enable the process of thought.'
She looked at him with care and, somewhat to her surprise, noticed that the young man was clearly being entirely serious in his response. She remained beside him on the bench. All around them, the wind whispered in the leaves of the lime trees. It seemed to be telling her not to move.
Six months later, towards the end of 1911, they were married and with their combined salaries (she was an assistant at a nearby pharmacy) were able to rent an apartment close to the Porte de Clignancourt, at the termination of the newly opened Ligne 4 of the metro. He travelled daily to his work at the ministry in the Rue de Varennes.
One day he arrived at the office, climbed the stairs and sat down at his desk. Propped up in front of him was an ornate envelope. His name was written on it in well-rounded and rather large letters. He sat looking at it for a moment with a feeling of both excitement and foreboding. A thousand possibilities ran through his mind. After a while, he took his desk-knife, slit open the envelope and to his astonishment read –
M. Thierry, the Minister of Public Works, and Mme. Thierry have the pleasure to invite M. and Mme. Derain to a reception in honour of the visiting English Minister of Transport,
M. Charles Hobhouse at 7p.m. on Tuesday 10th February 1913.
R.S.V.P.
M. Jean Thierry,
Ministre des Travaux Publiques, 6, Rue de l'Opera,
Paris, Ile-de France
That evening he returned home in a state of great excitement and showed his wife Sylvie the invitation. She rapidly became overwhelmed with anxiety.
'What should I wear?' she asked him. He had no idea but promised to make inquiries of his colleagues at work the next day.
On the day of the event, Sylvie awoke feeling unwell. She had a high fever and was unable to rise from her bed. Georges called his doctor who arrived in his carriage later in the morning. After a thorough examination the doctor pronounced that the illness was not serious and prescribed medicines, which Georges duly purchased from the pharmacy where Sylvie worked. But by the evening it was clear that she would be unable to travel to the reception.
To his surprise, her eyes appeared fixed on him. He did not recognise her
She was insistent that he should attend without her. After some discussion he agreed, and left her in the care of their maid. He arrived at the minister's house in good time, knocked and the door was opened by a servant. He entered a spacious hallway and was shown into an enormous room lit with chandeliers. There were already many well-known people present and in the distance he saw his minister escorting an unknown man – presumably the English minister. A servant gave him a glass of Champagne and he stood lonely and isolated on one side of the room. He recognised at least three other ministers and several 'chiefs' from the grand tiers of the civil service. After a moment, a voice at his side said 'Georges'. It was his opposite number from the Ministry of Defence. They stood for a while talking of their fear of another war with the Germans and Austro-Hungarians.
'Will we be humiliated again as in 1870?', he asked his colleague.
'I think not,' his colleague replied forcefully. 'We are much better prepared this time and the British are with us. M. Asquith has made it absolutely clear that German expansion will not be permitted.'
Just at that moment a woman walked towards them out of the crowd in the centre of the room. She was dressed in the latest Paris fashion in a pale silk grey dress, cut simply but closely. Her hair was in a knot on her head and a diamond necklace glittered at her neck. Georges had never seen such a beautiful woman.
To his surprise, her eyes appeared fixed on him. He did not recognise her.
She smiled gently at him. 'How nice that you should come to our little soiree, but I fear that I do not know your name.'
'Georges Derain,' he replied with a bow, nervously keeping a firm grip on his glass. They talked of small matters and at some point as they chatted, he was aware that his colleague had disappeared. They discussed Douarnenez, which she had visited on holiday as a child, and she showed interest in his classes at the University. He had just asked her about herself when he felt the lightest pressure on his arm. He stopped in mid-sentence and looked down at her gloved hand resting on his arm.
'Come with me,' she said. 'I have something to show you.' They left the Grand Salon by a small side door that he had failed to notice previously. A winding staircase took them to a small landing, from which opened a number of passageways. She turned to face him and touched his cheek.
'You may kiss me,' she whispered. He found himself unable to refuse, so spellbound was he by her beauty. She opened a door and they entered. She turned the key behind them. Later, as they were leaving the room, he asked her her name. She looked at him with amusement.
'But Georges, I am the wife of M. le Ministre. You may call me Justine now.' He felt faint and his head spun.
'Au revoir, Georges. We will not meet again,' and she was gone.
He was unable to forget his encounter, lingering on every detail
He collected his hat and coat, and left into a dark rain-swept night. A cab took him to the metro station. He sat on the train in a state of shock, unable to comprehend the folly and danger of what had occurred. Guilt-ridden, he returned to his wife who seemed brighter and who demanded all the details of the party, most of which he told her.
Over the next few days his wife recovered from her illness. For himself, he was unable to forget his encounter, lingering on every detail. As time passed, the little affair became less obtrusive. He realised that he could hardly remember anything about her, except for the beauty of her eyes.
At the office, his work continued as usual, with no change in his routine. One day at work he had a particularly trying afternoon with a colleague.
M. Barthes from the Finance Ministry visited him in his office. This was an unusual event. Colleagues from Finance were rather aware of their own importance, and rarely if ever visited others. To his surprise, his clerk managed to serve them tea on a Limoges tea service. The clerk confessed after the meeting that the set was normally reserved for the Minister and Head of Service only, but he had removed the set from the Minister's room while everyone was at lunch.
The reason for the meeting was the planned new road between Dijon and Beaune. To Georges' eyes the contractors' estimates all looked extremely reasonable, but for some reason M. Barthes insisted that they were too high and absolutely refused to agree to any of them, Limoges tea-set or not. By five o'clock they had made no progress and Georges was left with the realisation that he had many hours of work left, revising tonnages for the sub-structure of the road and delaying its building. The mayors of the two towns would doubtless complain to his minister.
His head had started to ache, and as he left the building a gust of rain caught him and damaged his umbrella. He walked carefully to the station at St Sulpice trying to avoid the puddles and the spray from passing cabs. He descended to the platform and a train appeared almost immediately. He sat down wearily and reflected sombrely on his unsuccessful day. At Strasbourg-St Denis a woman entered the carriage. The doors closed with a rattle and the train left the station. He looked up and to his astonishment saw that the woman was the minister's wife.
'Bonjour, Madame,' he said. The woman however did not respond.
'Madame Thierry?' he asked.
'Non,' she replied in a haughty manner, rising rapidly from her seat and leaving at the next station.
He was distressed. Was it possible that he had been mistaken? He had, after all, been with her for a very short period some months ago now. Maybe his mind was playing tricks with him. But those eyes, those eyes were the same he was certain – or was he? Doubts flicked around his mind.
And to make it worse, all the other passengers were looking at him; some in amusement, but some with anger at what they must believe to be his discourtesy to the woman.
His thoughts became obsessed with her… He could not sleep at night as he continued to think of her. He stopped eating
His conclusion was that he must have made an error – until the next sighting a week later. On that day, he strode out of the office at lunchtime for his regular walk to the Jardin du Luxembourg. He walked along the Boulevarde Raspail, an attractively wide street, sadly lined with uniformly grey houses and unexciting shops. As he was about to cross the Boulevarde, he saw her climbing into a carriage on the other side. He stopped to be sure – and then was about to cross when a funeral procession of carriages stopped him. After they had gone, he was unable to see her or the carriage. His mind was on re. Where had she gone? What was she doing?
His thoughts became obsessed with her. He turned matters over in his mind. She had said to him "We will not meet again" but he had seen her twice. What did it mean? He had been stopped by a funeral cortege. What was the importance of that? Was it all a sequence of coincidences? His obsession made him more anxious. He could not sleep at night as he continued to think of her. He stopped eating. His work became disordered and his colleagues were uneasy. He lost weight and could not talk to his wife. She in turn became distressed at his long silences and his appearance, which was turning increasingly sallow. Although she tried to tease it out of him, he appeared unable to converse with her.
He started to see her everywhere, often to the irritation of surprised young women. Then one Friday there appeared on his desk, on his return from his lunchtime walk, a note. It read –
You are following me everywhere. Desist or I will call the police.
He was terrified. His health deteriorated markedly and he was unable to eat at all. About this time I received a letter from him, explaining that he was ill and outlining all the events that had occurred since the fateful night of the Reception. I wrote back immediately, offering to come to Paris, but received no reply.
Three weeks later I received a letter from his wife.
14th June 1913
Dear M. Lasalle, 
You will be sad to hear of the death of your old pupil Georges Derain. His death remains a mystery, although I took him to the nest doctors. He became agitated and miserable in demeanour quite suddenly. We went eventually to Professor Didier at the Hopital Salpetrier, who diagnosed "hysterical neurasthenia". I had no idea what was the meaning of those words, but the Professor mentioned that it was the discovery of Professor Charcot who had preceded him at the hospital. He suggested that we should travel to Switzerland to see Professor Freud, an expert on this disorder. Georges however took to his bed and to my horror, simply starved to death before my very eyes, refusing all drink and food. At the end he was rambling and very disturbed in his mind. He kept repeating "We will not meet again. We will not meet again." I tried to find out what it meant, but he would not say anything. Before he was ill he often spoke well of you, his old teacher, so I expect that you will be distressed to hear this news.
Yours truly,
Sylvie Derain
I have read her letter over a few times and am saddened beyond measure. I sit now upon the sea wall here in Douarnenez. It has been a wild and rain-filled day, as a great hurricane has blown in from the Atlantic. But now as evening falls, the storm has passed and the setting sun shines on the boats returning to the harbour. I look anxiously out to sea, counting the boats as they slowly return, one by one.
Une Affaire Dangereuse is from The Romance Issue – Issue 19. Order your copy here

To ensure that you never miss a future issue of the print magazine, subscribe from just £20 for 4 issues.